Week 1 – The Super-Adobe Building Training
(When you're done Viewing, Click Here for the Photo Summary
of the Second Part (permaculture) of this Combined Training)
 We just recently completed the first 4 days of our joint earth-building and permaculture design certificate course in conjunction with, and hosted at, the California Institute of Earth Art and Architecture (Cal-Earth).  There are about 30 students taking the combined training.  Because it is November, we are having some pretty cold nights and days here on the desert.
Cal-Earth is located just outside of Hesperia, CA. where the San Bernardino Mountains meet the Mojave Desert.  They get 7 inches of rainfall per year, the majority of which falls during the winter months.  The famed Joshua tree is the dominant over-story tree on the landscape.  Some of these desert pioneers can be a thousand years old. 
This sign on the grounds explains much.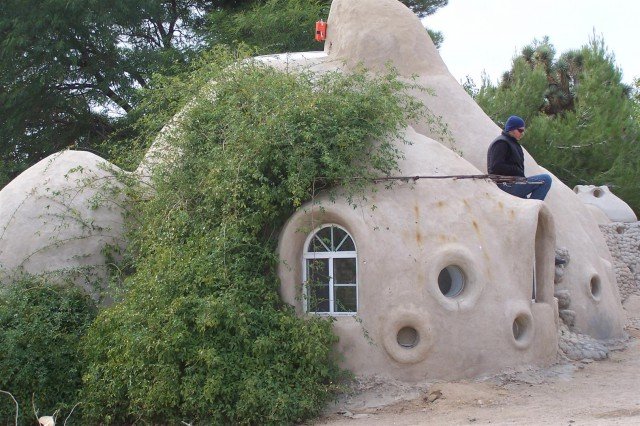 One of our instructors, Milton Dixon, takes a good view of the surrounding landscape from the top of Cal-Earth's Eco-Dome.  This structure is building-code approved in California and built very much like this in many places on the planet.
This 400 foot structure (interior) is absolutely lovely inside and would make a perfect apartment or small home for a single person or couple.  More information about the building and the purchasing of the plans can be found here.
Ian Lodge is the director and lead instructor at Cal-Earth and is speaking to us from inside of the Eco-Dome.
He and his team of teachers led us through a full 4-days of training on building with super-adobe.
Here is another look at the Eco-Dome from the front door view.
From the outside, some of the super-adobe structures might look rather cold or even primitive… 
…But from the inside, many are open, light and airy.
Becky and Hayden are standing out in front of what is called the Rumi dome.  Rumi was the 13th century mystic and poet whom Nader Khalili greatly admired.   From the outside, the dome looks rather modest.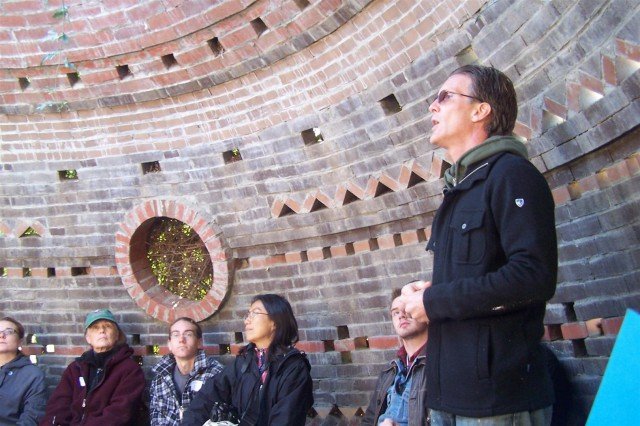 From the inside, it is roomy (no pun intended) and the acoustics are fantastic.  
This dome is nothing but brick and mortar, completely built by hand by Nader, his staff, and his students. The dome shape gives this structure an incredible amount of strength.  When load tested for California building code certification, the equipment sent in became over taxed and had to be shut down before being damaged.
Ironically, since Cal-Earth was established 20 years ago, the town of Hesperia has grown out to meet it.  
It was odd to see these amazing, earth-sheltered homes surrounded by an encroaching suburbia. 
One of the workshop exercises was to see if students, working in pairs, could construct an arch using nothing but bricks, pebbles, and gravity. This is Hayden's my second attempt, and it worked…!!!  
No mortar was used and it still stood up by itself. The arch has been used by man for millennium as a simple, yet incredibly strong, structure.
To make superadobe structures, a mixture of earth, a bit of water, and a binder such as lime or concrete is dropped into one end of a very long plastic fiber bag.  A few shovelfuls of mixture are worked tight into the bag by leaning it up against one's leg and shaking it into the previous addition.  Within minutes we have a long, earth-filled tube.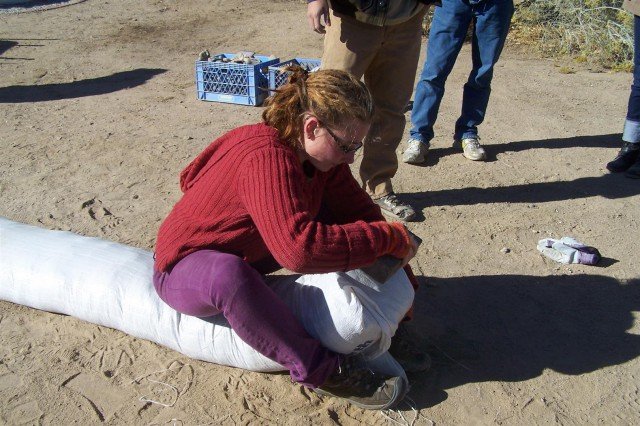 When the bag is the correct length or near the end, it is lifted up, tapped with a brick, and the plastic bag folded over and tucked in underneath to hold it in place.
Then a tamper is dropped over and over along the entire length of the bag to push out all of the air
and increase surface contact among the mixture.  Once it sets up, it will become almost as hard as a rock.
Milton took some panoramic shots of the training.  This is one of the classrooms, located outdoors, where we learned how much cement or lime to add for different types of soil.
Click on this, or any of the pictures above to get a larger view.
Click Here for Photo Summary
of the Permaculture Portion of this Combined Training