It has been a real boon to have Embry Jansen and Sky Pisarski assisting us over the past couple of weeks as permaculture work-traders.  They are trading their time for one of our upcoming PDC courses. They have been assisting us with a wide variety of unfinished activities related to our CSC 8.7-acre Permaculture Land Project here in Stelle.
The Team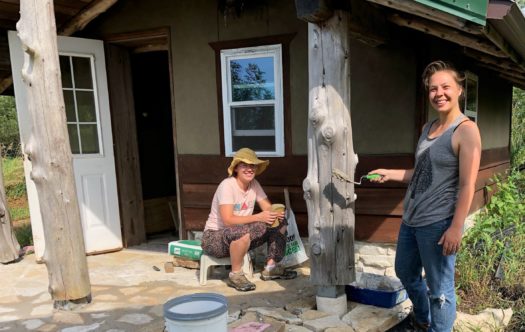 The Challenge – Mortar in the Patio Limestones
Because Becky and I were busy delivering our annual Teacher Training we asked Sky and Embry if they would be willing to work independently. The challenge – could they figure out how to mortar in patio limestones? It is the last remaining task to getting EarthShelter #1 completed.
So with a bit of guidance and some help from YouTube they figured it out and got'r done! Here is a bit about this experience in their own words.
Embry
"Having the opportunity to work on the patio of the EarthShelter was an incredible experience. Masonry or mortar work is not a project I'd ever consider embarking on at home, but I'm so glad I had the opportunity to learn this skill while doing my permaculture work-trade at Midwest Permaculture. The EarthShelter is a beautiful and grounding structure… I love the way the light from the glass bottles bounces around the space to light up the earth colored interior. During the hot days that we worked, stepping inside the cool shelter brought a sense of relief and reminded me of the grand purpose behind its construction. I plan to come back and visit Stelle and will hopefully be afforded the opportunity to enjoy a cup of coffee on the stone patio I had a hand in creating."
Embry Jansen
Work-Trade Intern
Sky
"Before doing my permaculture work-trade with Midwest Permaculture, I'd never worked with stone or mortar. I enjoy hands on work and it's become more important to me in recent years to gain practical skills both to increase my own self-sufficiency but also to contribute in community settings. Working on the limestone patio gave me more confidence in my abilities, bonded me to my work-mates, and inspired me to keep trying novel activities."
                                                                                                                                  Sky Pisarski, Work-Trade Intern
They Did it! – The Completed Project
The Sweet Feeling of Success…!
Thank You Sky and Embry!