"Charrette" (Def.) - A public workshop devoted to a concerted effort to solve a problem or plan the design of something.
'Quick Design' Charrettes
2:00-3:15 Design Time, Real Person, Real Property


3:15-4:00 Open Q&A with Bill and Team


4:00-4:30 - Mini Workshop
Working on Real Design Projects
Our Permaculture Design Course (PDC) and Property Design Mini Course (PDMC) contain in-depth introductory information on dozens of creative, elegant, and productive design features. But tackling real design challenges of real people is when we really deepen our design skills. These charrettes are for beginners, course graduates and experienced designers as well. 
What's Covered During the Design Session?
The session was so insightful.
Watching Bill walk through the design steps brought me so much clarity about how to approach my own property. There were tons of examples, and I learned a lot! Looking forward to the next charrette.
The price you pay for this workshop is based on a system of integrity. Pay what we ask, or what you think is fair, or what you can afford. You can also just support our permaculture work in the world with a financial gift. All income from these charrettes goes to support a permaculture project or person doing this work in the world. 
Register for the Session you are Interested In
You Will Receive the Zoom Link and Design Address via Email
You'll have to insert a dollar amount (even if it is $0) to register. 
See You in the Charrette!
October 8, 2023 Design Charrette
Dirk Tanner is the founder of Tanner Farmstead and one of our PDC graduates. He will be joining us to go over the property design, answer questions about his experience running his farm, and present the mini-workshop. He has a wonderful educational presence on social media where he shares tips and techniques on how to successfully practice regenerative farming. Check out Tanner Farmstead on Instagram HERE
Submit your property
Would you like to submit your property to be designed?
Anyone can request that we 'quick design' their property. Our PDC and PDMC students will receive priority, but we are delighted to host anyone's project should we run out of student requests. Whether you are an MWP student or not, email your request for consideration to , including your address and an aerial photo or map with the property lines delineated. There are no guarantees that we will select your project, student or not. Our selection will be based on which projects have the most significant learning potential.  
Note: By submitting a property, you are agreeing that the address will be shared with the participants of the group if it is selected. We expect all participants to be respectful of any personal information that is shared within the session.
We will start right on time (log in up to 10 mins. early if you like) by sharing all of the site data we have already gathered. We will also discuss what the data does and does not tell us.
Then, with this information and the client's vision for the property defined, we will pull up a Google Slide or PowerPoint and place the aerial view of the property on the slide to begin our base map.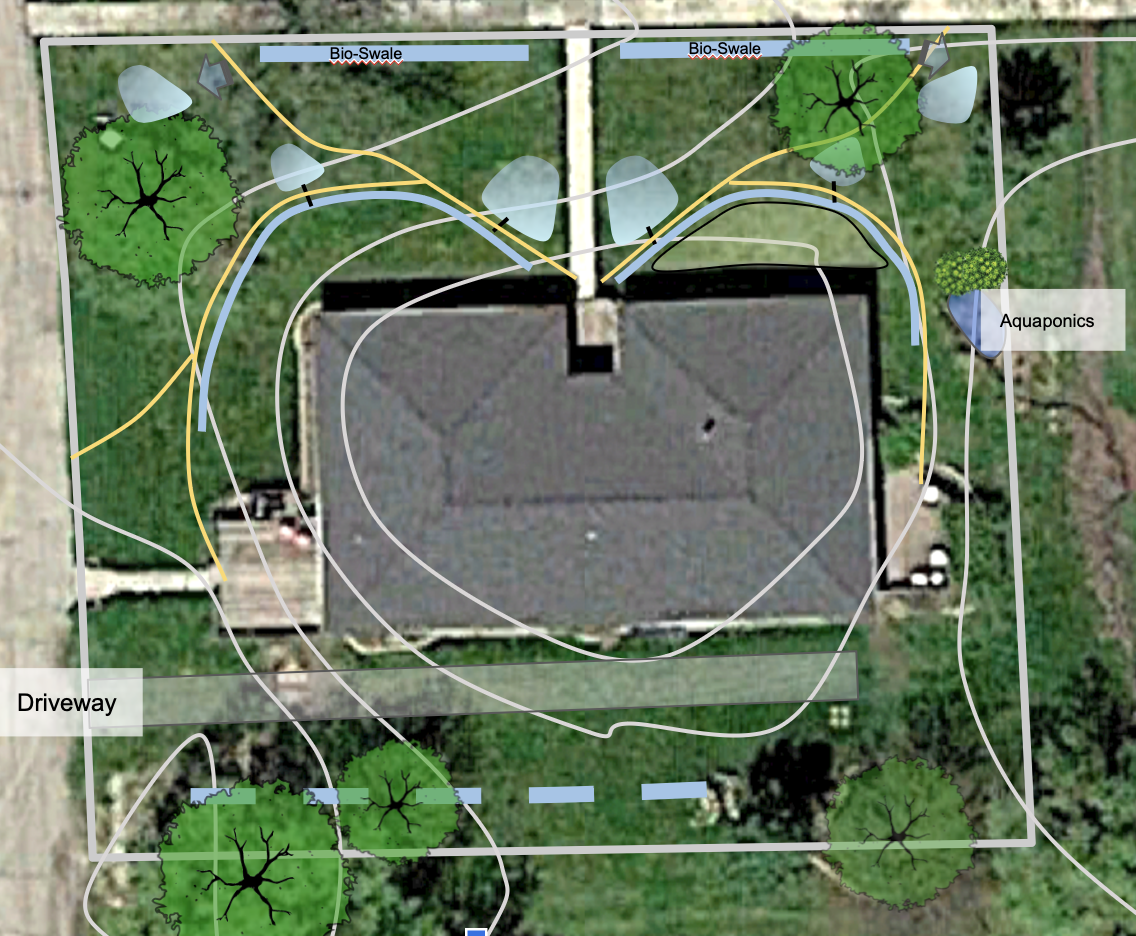 Then the design process continues as we follow what is known as the scale of permanence to determine how water and other forms of energy (sun, wind, nutrients, wildlife,  are moving through the property – what we call a zone and sector analysis). Would it be beneficial to hold some or all of this energy? If so, what are some ways to do that? What are the best access points for paths or driveways? Where do ideal planting areas appear, and what plants are likely to thrive there? And so on.
We'll take 45 minutes for your question about ANYTHING. Maybe you would like to further explore an element in the design we just created? Want to ask a question about your own design? Curious how we would tackle a challenge you've run into? Want to know about a resource we might know of? If you have a question, it is likely that many others have a similar one and will be glad you asked it. This Q&A can be a rich 45 minutes. We'll try not to run down any rabbit holes (getting into details that very few would find helpful or interesting), but we can at least lead interested folks in a useful direction. 
Our Permaculture Design Course (PDC) and Property Design Mini Course (PDMC) contain in-depth introductory information on dozens and dozens of creative, elegant, and productive design features. We thought we would use these charrettes to share some of that content with you. We will take suggestions for future topics during each charrette. 
Site Data and Digital Design Tutorial
Find the Site Data for Any Property in the US