About us and
Our Instructors
About Midwest Permaculture
The purpose of our work is to support the transition of our society

from a culture of consumption, into a culture of creation.
We are Bill and Becky Wilson. Midwest Permaculture is the culmination of our life's work – of everything we hold dear and have been working on for over 40 years.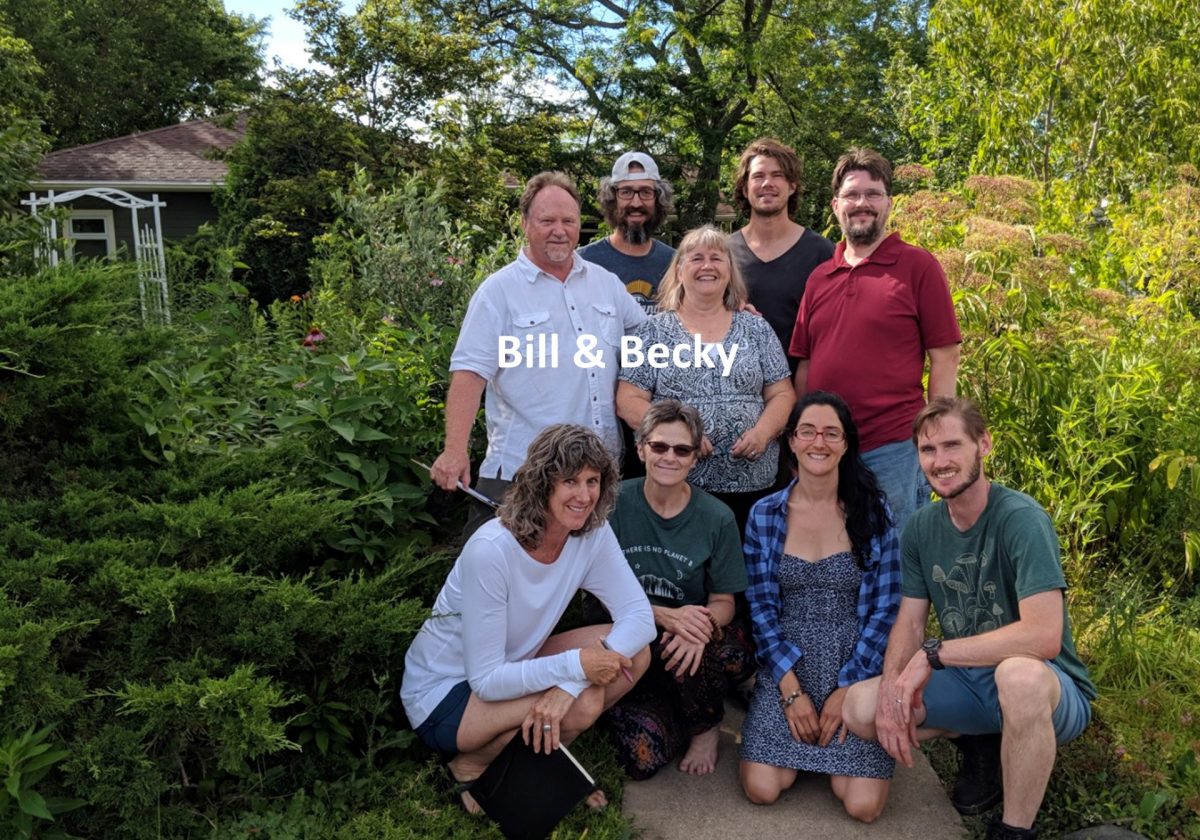 Our Work as Permaculture Teachers
Is to guide our students in how to develop the observational skills, the knowledge, and the practical information to create sustainable gardens, homes, landscapes, farms, businesses, relationships, and communities – in essence – how to develop a more permanent-culture.
We explore how we as humans and designers can provide many or most of the goods and services we need to live abundantly well — and do it in such a way that we leave the planet in better condition than we arrived on it.  If each successive generation had left the planet in better condition, we would be living in a very amazing world today.
Making Permaculture Their Life's Work
When Bill and Becky became deeply interested in permaculture in the early 2000's, they were not able to find a PDC Course near them. So through the non-profit organization they are a part of (Center for Sustainable Community) they brought in a teacher from California and hosted what was probably the first PDC course in the Midwest.
The PDC course was a watershed moment for them both and having lived, worked and volunteered in their small community of Stelle, IL, for two decades they found permaculture ideas and practices fit perfectly into into their own lives. It became obvious as well how permaculture could become a great healing and building tool for solving many of the problems humans have placed themselves into.
For Bill and Becky, there had always been two fundamental questions in the back of their minds:
Is there not a way that we as humans, all humans, can live abundantly well on this planet without polluting, consuming or degrading it?
Can we find a way to peacefully coexist while we co-create this culture?
The PDC Course answered these questions for them with a resounding …YES…!!!
It is this clarity that motivated them to start Midwest Permaculture on a shoestring in Jan. 2007 with a desire to make permaculture education more available to those living in the Midwest and beyond. 
Since starting Midwest Permaculture, Becky and Bill have been transforming their lot into a permaculture home. The yard is now a wonderful demonstration site for how to combine diversity, productivity and beauty into one space and we are all still learning as we go. The walk of Becky and Bill's yard is always an enlightening journey during a PDC or other workshops and not just for students. Those who visit often bring their own insights to us as well. 
Here is a photo summary of our permaculture-yard transformation over 15 years.  Our design includes rain gardens, berms, plant guilds, a 425-gallon rain tank and a front yard aquaponics system.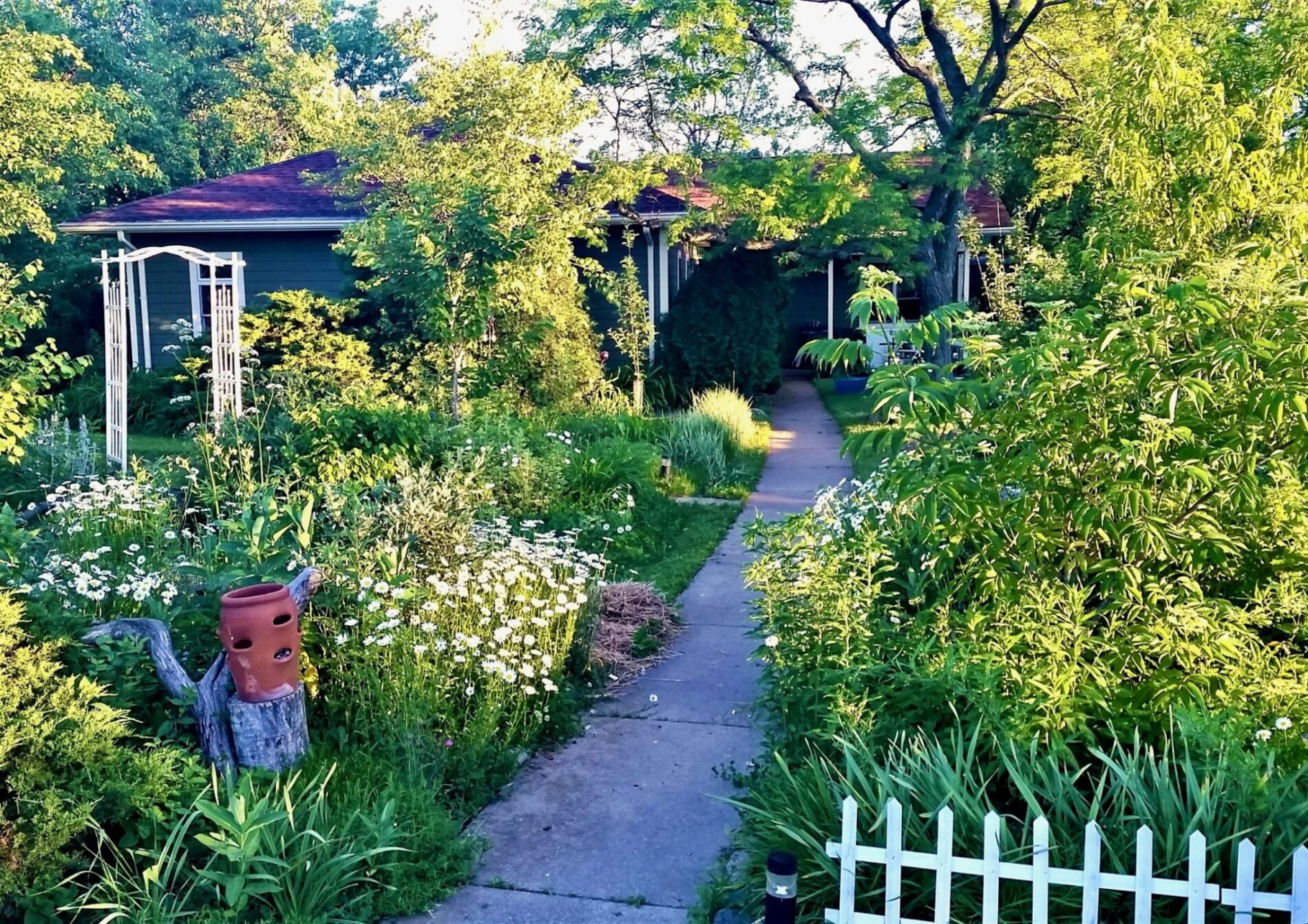 A Bit About You
• Our Future Students •
The culture we are surrounded by does not reward someone for looking into alternatives to the status quo. Many who take our trainings are individuals who are willing to look outside the box, to ask the more difficult questions, but as such they can find themselves more and more alone in their thinking.  In their family or circles they are often the 'odd one', the 'black sheep', the 'tree hugger'.
If this describes you then we are confident that you will enjoy a training with us. You are not alone in your feelings and thinking. We have walked the same path you are on. 
If however, you never take one of our trainings, we know you will not be disappointed as you walk through the permaculture door. You have found something real, true and worthwhile. Your travels into permaculture will hold a lifetime of fascination for you. 
Bill & Becky Wilson
Midwest Permaculture
17th Year – 95+ PDC Courses – 2000+ Graduates
Some of our Favorite Quotes…
"The significant problems we face today cannot be solved at the same level of thinking we were at when we created them."
"Earth turns to gold in the hands of the wise."
"For what is the use of a house, If you haven't got a tolerable planet to put it on?"
"Let ours be a time remembered for the awakening of a new reverence for life, the firm resolve to achieve sustainability, the quickening of the struggle for justice and peace, and the joyful celebration of life.
"Heaven is under our feet as well as over our heads."
The ultimate goal of farming is not the growing of crops, but the cultivation and perfection of human beings.
"Lord, help me to be the person my dog thinks I am."
"All men were made brothers. The earth is the mother of all people, and all people should have equal rights upon it. " …and… "It does not require many words to speak the truth."
Co-founder of Midwest Permaculture
Bill cut his permaculture teeth when starting a pick-your-own berry business in Kentucky in his 20's. This whet his appetite toward learning a raft of practical gardening and homesteading skills.
Having a great interest in the people aspect of permaculture as well, he was led to the sustainably-oriented community of Stelle, IL where he met Becky and where they have now lived for over 4 decades. 
When Bill discovered the word and body of work called 'permaculture' he was delighted to find that there was a word for all of the things he had been interested in and pursuing from the beginning.
The PDC course was a watershed moment for Bill as it provided the understanding and answers to so many of the questions he held as well as a path or way to deal with so many of our cultural dilemmas.  It was clear that he had found his life's work — bringing this amazing and inspiring body of work closer to home so others could learn about permaculture as well. Midwest Permaculture was birthed shortly thereafter. 
To put it simply, Bill is a unique and gifted teacher (say most all of our students) with a knack for taking the complicated and explaining it in ways that make it more easily understood and digestible. 
Co-founder of Midwest Permaculture
Becky earned her Permaculture Design Certificate in 2007 and her Permaculture teaching certificate in 2011, the latter from Rosemary Morrow.
Rosemary is a respected scientist, agriculturalist and elder in the permaculture world.  She is also well  noted for her popular text, The Earth User's Guide to Permaculture, which is the book we use for all of our PDC courses.
Besides being active in family and community life, Becky has served as the Stelle Community Association Manager for 18 years and served as the Community Association Board President for 8 years.
From these experiences she has developed a strong understanding of community building and business management.
Becky has also taken an Advanced Training in Permaculture Design with Peter Bane (former editor of the Permaculture Activist and author of The Permaculture Farm).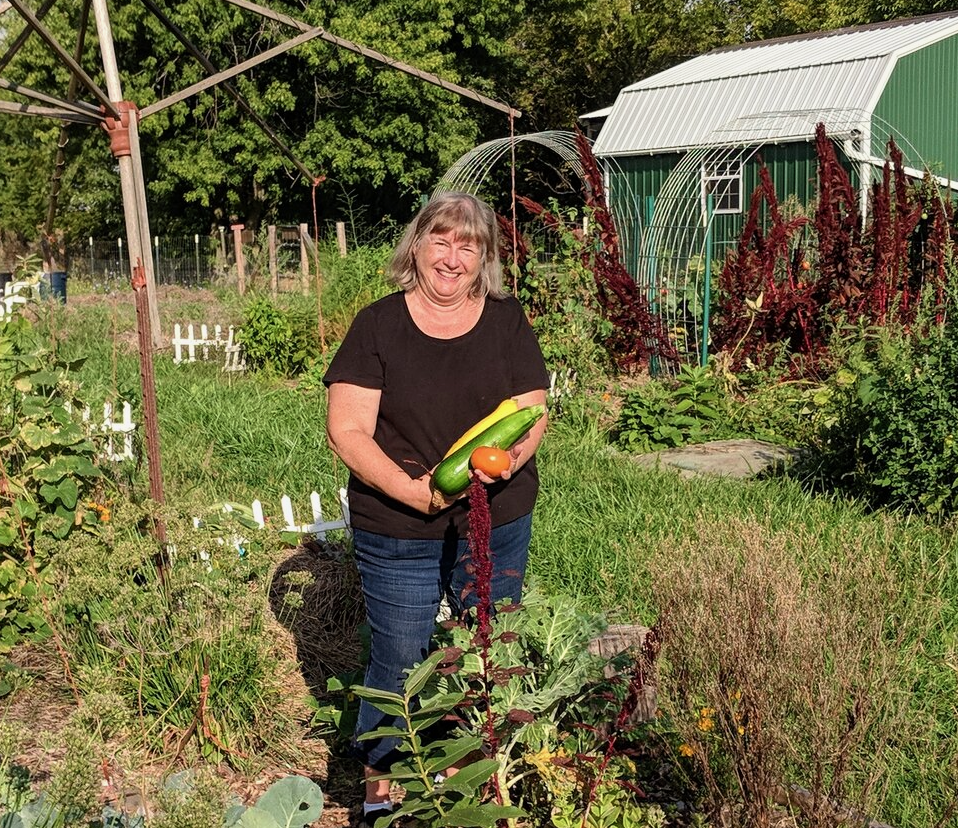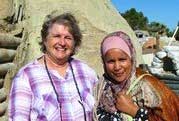 Becky with Nadia Lawton of The Permaculture Research Institute, Australia
Megan Christian
Permaculture Designer – Teacher – MWP Support
Megan took her PDC with Midwest Permaculture in 2019 and expressed a clear determination to make permaculture her life's work.
To be closer to Midwest Permaculture, she moved from New Hampshire and into our small town of Stelle where she made herself increasingly available to assist us in many aspects of our 'on the ground' work as well as making significant contributions in support of our design and teaching work.
She eventually became an important part of our work and is now fulltime here at Midwest Permaculture. She is a fast learner, a deep thinker, and proven herself as a designer and teacher. We're lucky to have her as part of our team.
And oh… she knows her wild mushrooms!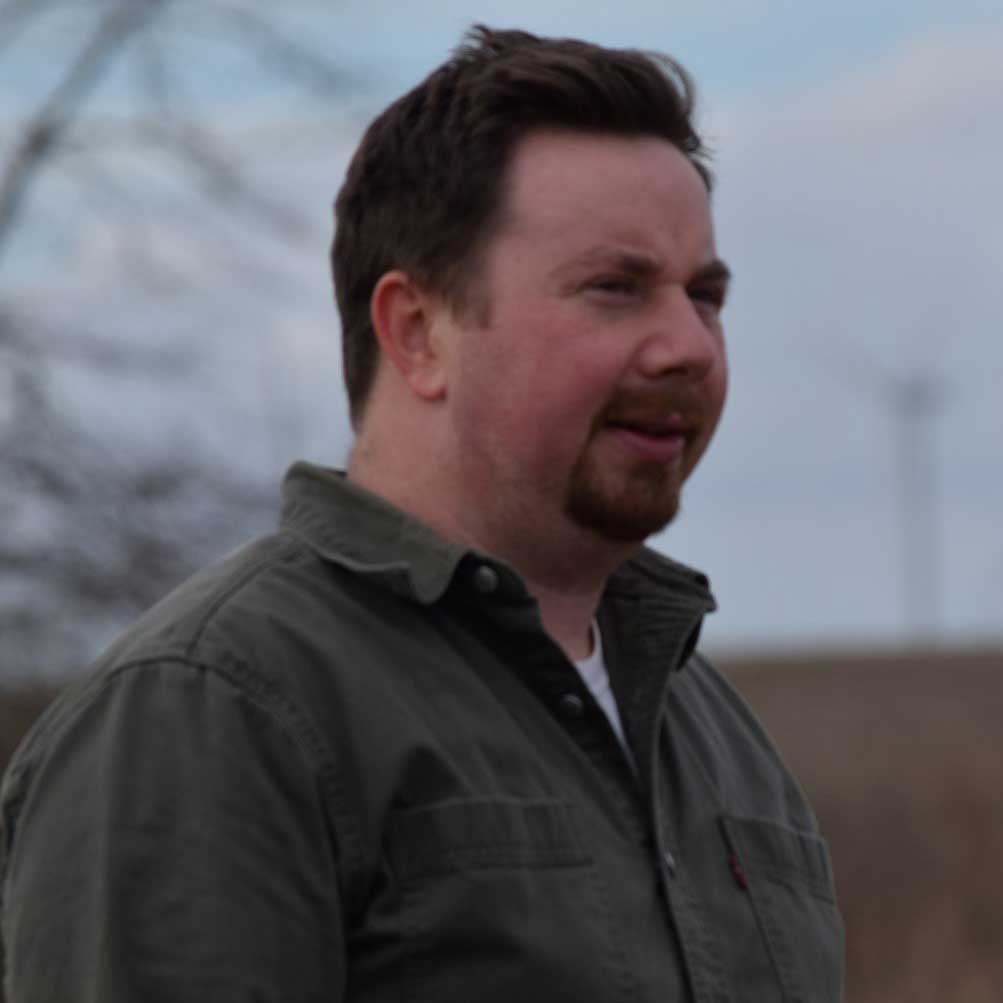 Will Wilson
Designer – Teacher – Project Coordinator
Will returned home after 10 years of work and college to join his parents, Bill and Becky, in the development of Midwest Permaculture.
Having abilities in multiple areas, he has become invaluable by taking on a wide range of tasks that come along and sees them through. He can teach various sections of the PDC course and with his growing design abilities assists in some way on most design projects.
Will is a key contributor when we go about implementing a permaculture design with a client.
Milton Dixon
Urban Permaculturist, Wild-Edibles Forager, Internet-technology Guru
Milton has been a part of Midwest Permaculture from almost the beginning.  As an urban dweller, he has taken many creative steps toward a more-permaculture lifestyle including foraging for fruit in parks and alleyways, planting gardens, making wine and growing mushrooms…to name a few.
He is accomplished at identifying edible-wild plants and took his Advance Permaculture Teacher's Training with David Jacke (author of Edible Forest Gardens) in 2010.
As a permaculture designer, Milton also possesses excellent computer mapping skills which we use to create some of our larger permaculture designs. Others might like to utilize his creative and design abilities by contacting  him at Permaculture Productions LLC.
Milton brings a spontaneity and youthfulness that is contagious and very complementary to Bill and Becky's style of teaching-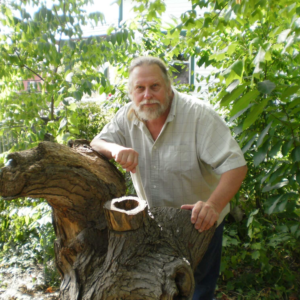 Bryce Ruddock
Midwest Permaculture's Lead Plant Designer
Bryce holds a Permaculture Design Course Certificate (with Midwest Permaculture) and received his Permaculture Teachers Training Certificate with Jude Hobbs of the Permaculture Research Institute U.S. He has been practicing permaculture techniques at his suburban property in South Milwaukee since 1984.  Because of his vast plant knowledge, Bryce has become Midwest Permaculture's official 'Plant-Guy'.
He is also one of the co-authors of Integrated Forest Gardening. We highly recommend this book.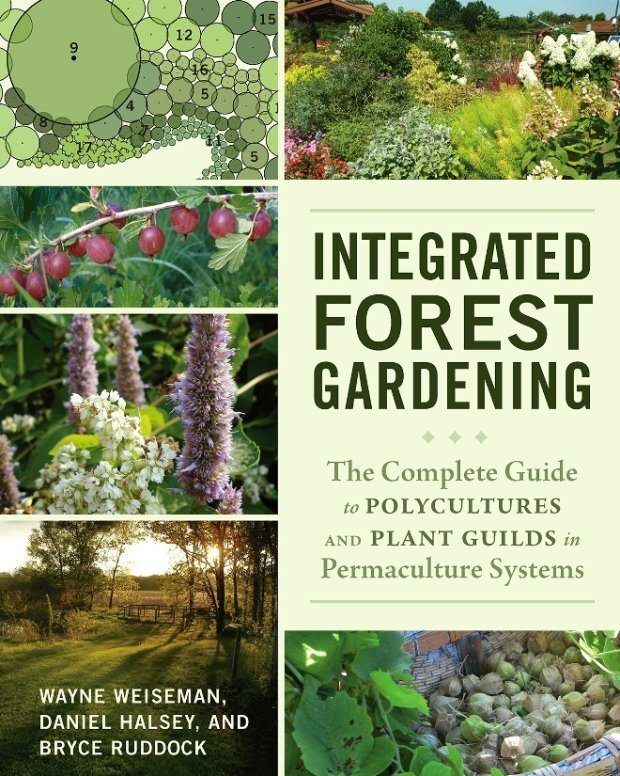 Free Plant Guilds eBooklet
9 Simple Plant Guilds by Bryce Ruddock