about the worldwide recognized
Permaculture Design Certificate (PDC) Course
Oh my gosh, I have learned so much that even if I only took away 1/10 of it, I have been so broadened in my outlook of things. I have hope for the future.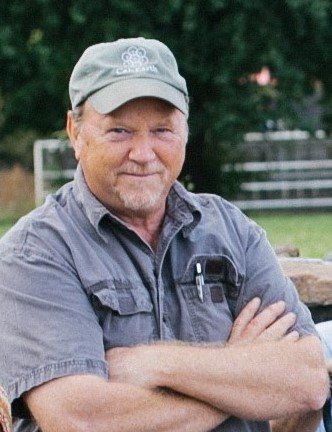 Credit for this course is now accepted by a growing number of universities around the world. Hundreds of thousands have completed this training and now comprise a global network of educators and ecological doers who influence corporations, create new business alternatives, influence the communities they live in and turn damaged lands into highly productive food-producing landscapes (farms). PDC graduates are committed people working together to enhance the way we view and design our landscapes, our lives, and the culture itself.
This course is not just for people who own property!
The PDC provides a fresh understanding of how each of us can significantly contribute to creating a more permanent and compassionate culture regardless of whether or not we own land. The majority of students in a PDC course are suburban/urban dwellers seeking a greater understanding of how things really work in the natural world, how to create greater abundance & security (food, energy, water, buildings, neighbors) in their immediate environment, and how to be of genuine service in the world for a greater good.
I cannot thank you enough for last week. Not only is the curriculum exceptional, but you created such a congenial environment. It's a lot of material for 72 hours but not only did you check all the boxes and get through the material, you added life and humanism throughout the whole training. Your transparency with your life, passions, and motivations were really what set your course and styling of teaching apart.
Ashlee Veghte
Straight up incredible. Even as someone who was less than familiar with agriculture and has never spent time on a farm, I found it incredibly valuable. Bill is a remarkable teacher, probably one of the most gifted teachers I've ever come across. I had no idea how impactful that would be in my selection of a permaculture course. He helps you understand the full picture at a micro and macro level… at both a logical and emotional level. He ensures everyone follows along, he's funny, he's passionate, he's engaging. I never thought 9-hours a day in class would be so easy. I wish this course were mandatory for everyone as a citizen of the world. I understand the world around me differently for this course and highly recommend it for all.
Katlin Smith
I had the fortunate opportunity to attend a Midwest Permaculture Course. I come from the corporate/suburban world and was not quite sure what to expect. Bill and team put on a first-class event. Bill is a remarkable human and anyone would be fortunate to spend time with him. He is so passionate about permaculture and leaving the world better than we found it. There is something in this week for everyone and the sense of community that I felt with everyone else was awesome! I highly recommend this course!
Chris Warren
Absolutely loved it. The PDC Course was interesting, inspiring and most of all, gave me a lot of hope. It helped me move from an armchair permaculturist to one ready to take on actual projects. The training exposed me to a variety of approaches that could be adapted to a range of climates and challenges. Most important, Bill and his team teach with heart and it really shows in what they share. I stayed in the small cob cabin they actually built there and had a lovely time. The food is fantastic too. The course was a lot of bang for the buck. I'm so glad I found Midwest Permaculture.
Kirsten Spainhower
I learned a TON! The information was presented at a level that everyone could understand while the more knowledgeable and experienced people in our class were also blown away by the depth of useful content. I realize now that permaculture is about the skills needed to be a responsible human on this planet. This course was a paradigm shift for me. Thank you Bill and Becky.
Meg M.
There is something beautiful about witnessing people doing what they were meant to do. Bill, Becky, & Eric truly are inspired teachers! I learned an astonishing amount at the PDC course at Heal the Planet Farm in MO this spring & was also left with the desire and confidence to continue that learning on my own. The amount of info squeezed into one week was amazing, and somehow it was presented in a way that felt manageable and approachable. True to their teaching, they "practice what they preach"--both personally & professionally--so they had lots of practical stories to make the theory relevant. In addition, they managed to create a beautiful sense of community amongst a class of strangers and left us all feeling more hopeful about the world, despite the challenges ahead. Thank you, Midwest Permaculture!!
Sarah McCarthy
Bill, we made a deal on 30 acres in Kentucky. So grateful for my PDC as I felt confident enough to make this leap. Got a good deal too as it is considered 'less than desirable' land. Not so at all. It's perfect for a permaculture design. Finally have our own land!
Jimi
I really can't imagine a better PDC course. Bill has years of experience and thus his real world examples left me feeling that everything I learned was not just a glorified theory, but rather a perfectly possible practice.
Terry K.
Take this class. It was one of the best things that ever happened to me. The teachers were awesome and the best I have ever had. The other students were amazing too. I was actually sad to leave.
George Lockerby
This was an amazing eight-day workshop that has changed my life and the way I think about almost everything. Bill nailed this subject to the core. This training was inspiring and absolutely loaded with useful information.
Joe K.
...they gave me a job as soon as they looked at my resume with that Permaculture Design Course Certificate right at the top!
Amy
Most Commonly
Asked Questions
Who Could Benefit from a
Permaculture Design Certificate Course?
Just about everyone!  If you're interested in learning about sustainable living, green design and architecture, abundant gardening, organic agriculture, generating renewable energy, creating authentic relationships and community,  learning new skills, or considering a new career to obtain right-livelihood….then you will get much from this course.  
When a permaculture design is implemented on the land, in a business, in a community, or in one's own personal life,
(1) wastes become resources,
(2) work is minimized,
(3) yields increase over time
(4) and the environment is restored over time.
Some who have benefited from a PDC Course?
| | |
| --- | --- |
| Homeowners | Homesteaders |
| Students Looking for their Career Path | Gardeners |
| Farmers | Renters |
| Educators – Teachers | Landscape Architects |
| Architects | Community Activists |
| Garden Designers | Agronomists |
| Builders | Resource managers |
| Municipal, State, and Federal Staff and Managers | Real estate buyers and brokers |
| Landlords | Developers |
| Pastors and Church Leaders | Local and Regional Planners |
| Construction Professionals | Elected Officials |
| Green Entrepreneurs | Non-profit Administrators |
| Community Organizers | Social Workers |
| International Relief Workers | Ecologists |
| Landscapers | More… |
Permaculture is about looking at ways to integrate many different elements into a sustainable way of living. So, even though we might not go into great detail in every subject area (we would need three months), we do delve into many areas and look for ways they interrelate with each other.
The goal is to design systems that allow us to live abundantly well while also eliminating wastes, increasing yields, minimizing unnecessary work, and caring for the total environment. We must design ways of living that care for nature, ensuring the necessary resources for future generations.
Permaculture Design Principles & Ethics
Regardless of the subject area being explored, these fundamental permaculture design principles delineated by permaculture's other co-founder, David Holmgren, are the foundation to all permanent design.
Observe and interact
Catch and store energy
Obtain a yield
Apply self-regulation and accept feedback
Use & value renewable resources and services
Produce no waste
Design from patterns to details
Integrate rather than segregate
Use small and slow solutions
Use and value diversity
Use edges and value the marginal
Creatively use and respond to change
Permaculture's 3 Foundational Ethics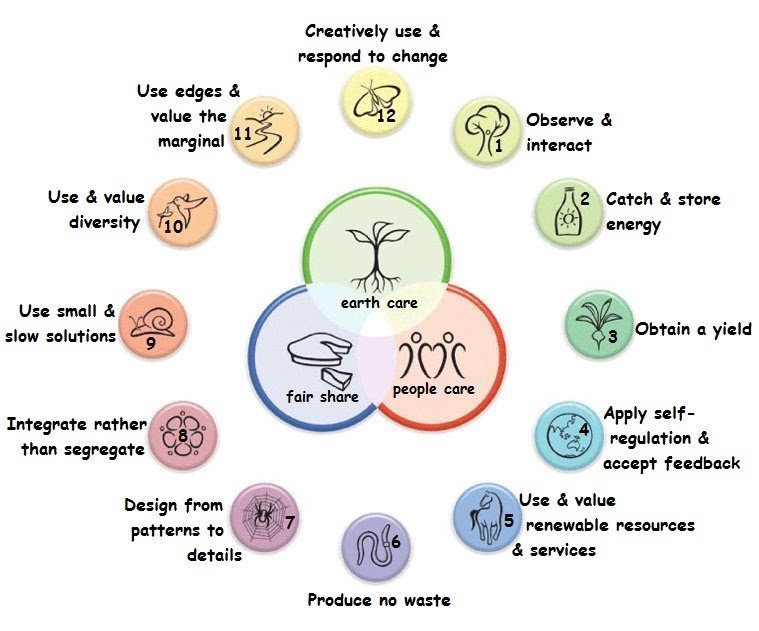 A Focus on the Fundamentals Regardless of Your Climate
Should I take a Course in My Own Bioregion and Climate?
What is essential to understand about the PDC course is that we must cover all of the basic principles and ideas behind a permaculture approach to meet Mollison's requirements for a certificate of completion.  Therefore, many different climates, land types, soil types, and living situations are explored.
So, it doesn't really matter where you live now or where you take a design course.  You will be exposed to all the fundamentals, allowing you to begin to create a permaculture design for just about any location or situation on the planet.  The fundamentals and the principles don't change.  
This being said, if you can find a good quality PDC course in your same climate there are likely some advantages. A poor quality PDC in your own climate would likely be a waste. We enjoy a reputation for having one of the top PDC Courses in the world and trust that the education you receive from a Midwest Permaculture PDC will be universally applicable.
We have hosted PDC Course in the Midwest, the mountains, the desert and the tropics.
Continued Support Following Your PDC Course
Students who have completed a Midwest Permaculture design course are then invited to become part of our growing network of graduates.  We support our students in 3 ways:
We offer the live courses (in-person or on-line) at half-price to any graduate who would like to experience the PDC once again.
We maintain twice monthly 'Office Hours' so students can stop by anytime.
Free access to our live quick-design charrettes to deepen one's design skills.
Our objective is to support our students for as long as they need it or want it, and to encourage them to support each other.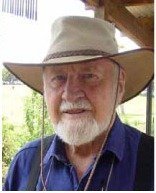 About the Permaculture Design Certificate
The Permaculture Design Course (PDC) Certificate is Awarded to Students who Complete the 72-hour Curriculum in Permaculture Design as created by Bill Mollison
Permaculture is a worldwide grassroots movement organized on principle, ethics, and the honor system.   It is one of the few educational systems in the world of its size that allows so much freedom to students and teachers alike.
Certification has been a part of design course completion since the early days of permaculture (the 1980s). For example, bill Mollison would train people and then give them a 'certificate of completion' to demonstrate that they had been exposed to his basic curriculum.
At that time, he encouraged graduates of his training to go forth and immerse themselves into the fundamental application of permaculture design and, if and when they felt called and ready to teach, to go ahead and do so, even if they wished to eventually offer their own Permaculture Design Certificate (PDC) courses and hand out their own certificates. As a result, several generations of students became teachers of the PDC. Unfortunately, some of those who picked up the teaching torch were not very good teachers and/or failed to present all of the essential information contained within the design course curriculum. As a result, Mollison started receiving complaints about the poor quality of some of "his" courses.
Realizing that specific standards should probably be established for permaculture teachers, he eventually began a screening process and set up a registry so that future students had some assurance concerning the quality of teaching. However, within a couple of years he discovered that some unethical teachers would get on his registry only to end up teaching whatever and however they wished. To Bill's credit he closed the registry to allow permaculture to grow organically. This quote by Mollison clearly reflects his fundamental feelings about top-down institutions vs. a grass-roots approach. 
"Finally, with hundreds of itinerant teachers turning up anywhere, the system is beyond restraint.
Safe at last, and in a geometric growth rate – we have won! Permaculture is permanently ungovernable."
"I visualize an open society where anyone who wants to teach advertises the fact, the fees, and the duration of the course; also their degree of abstraction.
Teachers live well or poorly, on the loyalty of their students.
There are no salaried teachers."
Travels in Dreams by Bill Mollison (from 1996)
Fortunately, most teachers in the permaculture world are guided strongly by the ethics permaculture was birthed from so are dedicate to providing a quality training.
Also, the content of the PDC is quite brilliant in and of itself so regardless of the quality of teaching, the odds are, most PDC trainings fall within the good-to-great range. 
We suggest that one does their homework to assess the quality and experience of the teachers and then follows their own intuition and judgment as to which course is best for themselves.
Privileges Associated with the PDC Certificate
The Opportunity Before Us…
Because permaculture is a relatively new field, few 'job' opportunities are listed in the employment ads for permaculture designers or practitioners, but the number of requests are growing. But please do not take a PDC course thinking there will be an automatic job for you at the other end.
The opportunity however, is that permaculture design course graduates may start a business of their own, whether it be in consulting, designing, implementation or teaching.
The only limiting factors to one starting their own business are their knowledge base, experience, or skills. Each of these skills is available to everyone, if they will but seek them out. 
Permaculture is a life-long journey and a way of relating to life from one's core. There is no end to the depth of experience and service we might render to ourselves, our communities, and the world, especially given the current state of things. We need people who can think and design long-term sustainable solutions. For those who can do this, there appears to be a great opportunity, ultimate security, and the satisfaction of doing work that really matters in the world.
This work is real.   This work is lasting.   This work is needed.
There is plenty of room for you and your gifts in the worldwide permaculture community. Come and join us.
Bill Wilson –June 2023