The 72-Hr Permaculture Course
In Person - Choose a Location
Then 8-days On-Site - Limit 24 Students/Class
View some of the locations where we've hosted our courses (click photo to enlarge)
We typically choose sites that practice aspects of permaculture to host our courses. We have hosted courses at Bending Oak Permaculture Farm, Cal-Earth, and many more engaging places.  
Each site we teach at lends much to be explored and discussed. But despite the location, the expansive PDC course curriculum covers how to apply the principles of permaculture in any climate, anywhere in the world.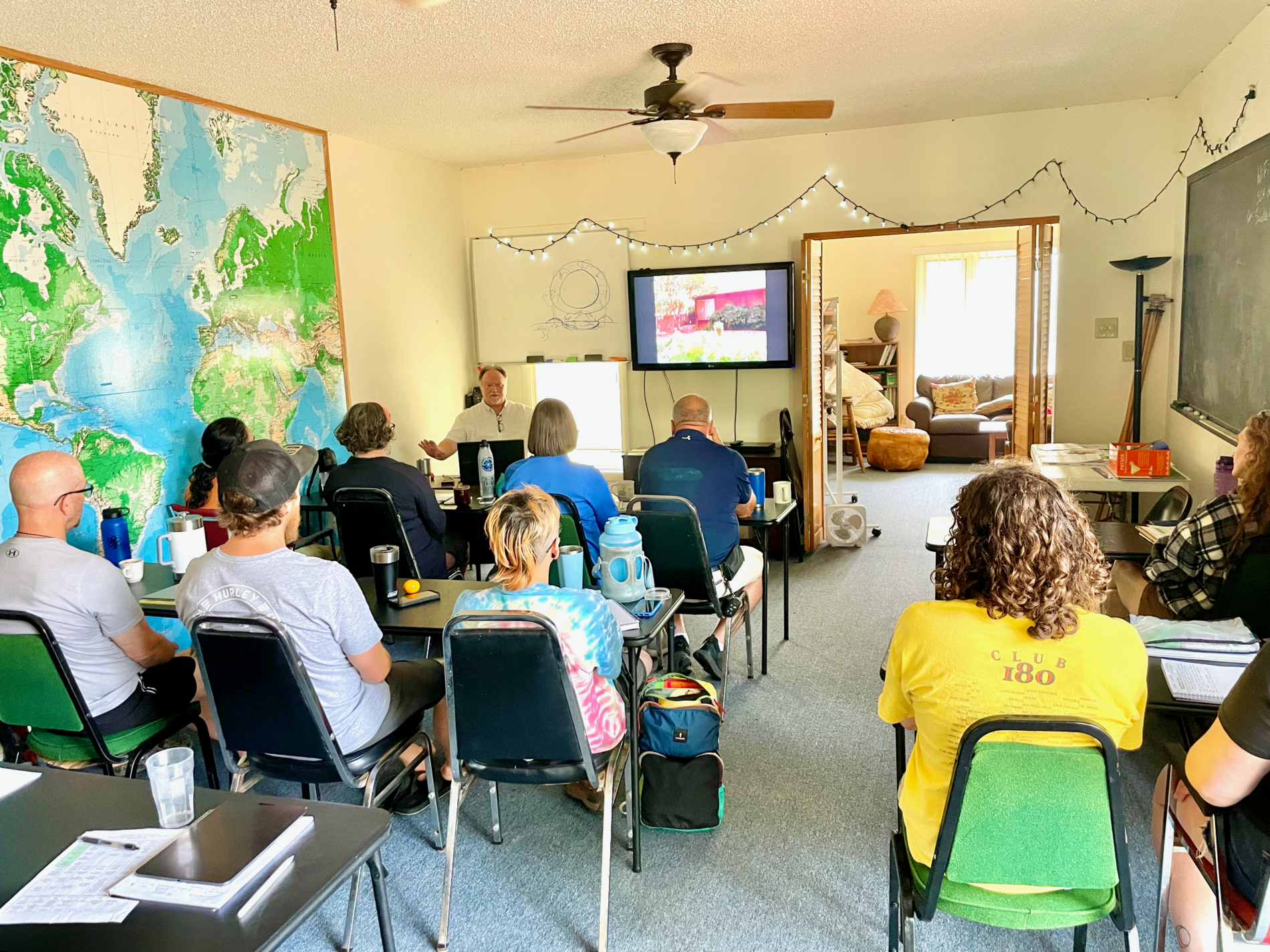 What to Expect from a Midwest Permaculture Course?
The subject of permaculture attracts an incredible variety of individuals with a meaningful collection of common interests. Sharing meals, space, and conversation lends to creating a rich learning environment and a palpable sense of community among participants. Our students bring as much to the experience as we do and naturally end up sharing some from their diverse areas of expertise and knowledge. Most participants leave our courses feeling personally enriched.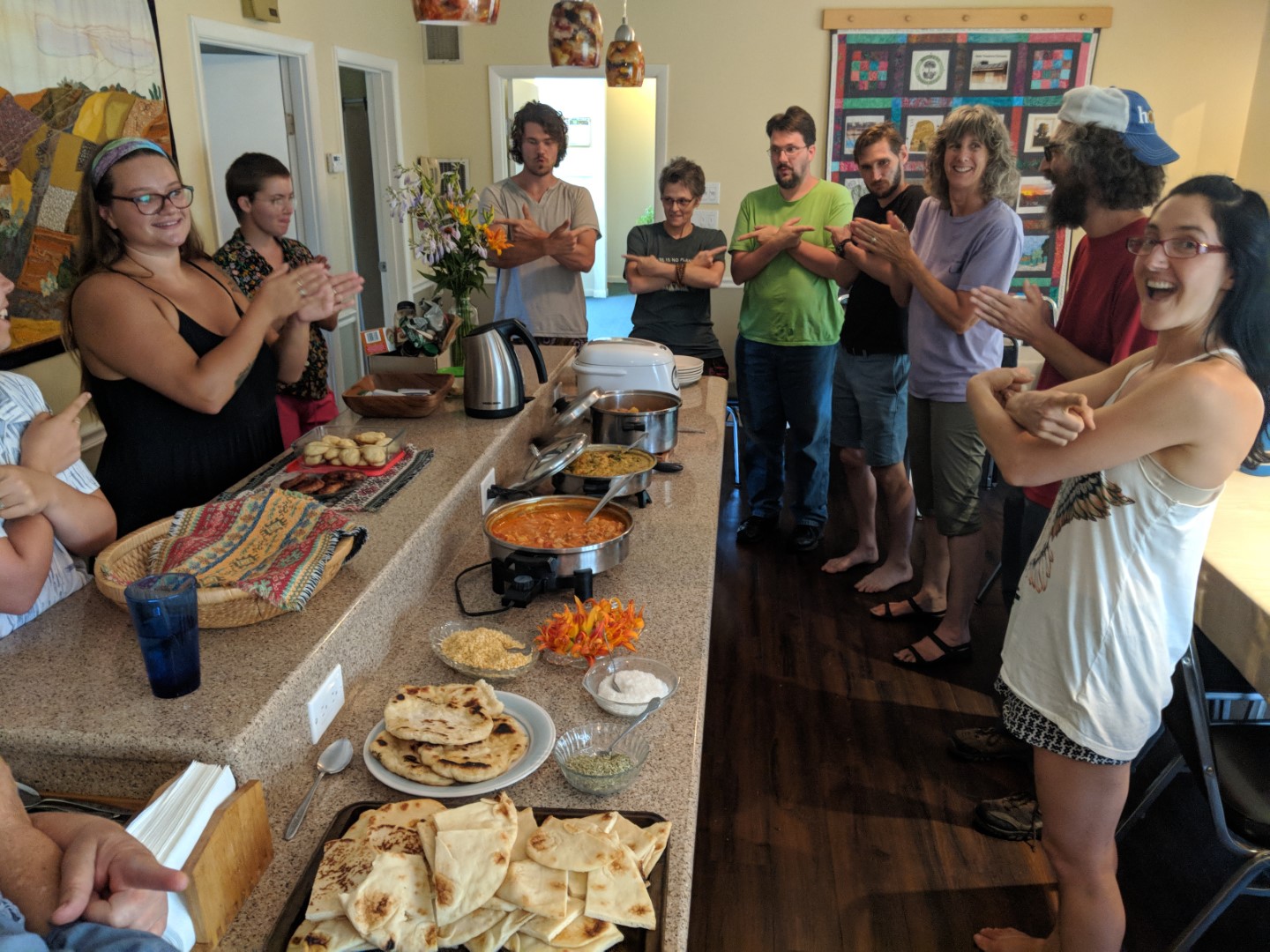 "I gave this course an overall rating of 5 stars. If I could go higher I would, you exceeded my expectation by a huge amount. Seeing is believing."
"This course should be a requirement to living on the planet."
"This was such a wonderful experience. I can't imagine a better use of my time and money. I'm leaving with clear ideas of how to implement permaculture into my life and inspired to do so."
"I really enjoyed what Bill and his team brought to this course. Their vulnerability, honesty, experience, knowledge and integrity inspired us all week. Each day was an adventure in what is really possible."
Get a Lasting Impression from Hands-On Learning
For many people, endless reading and lectures can be difficult to absorb. We fully understand this and have crafted our in-person courses to be peppered with active learning experiences. During each in-person PDC course we take time to learn outdoors, learn how to use helpful equipment, break off into groups for discussion and exercises, and work on tackling site-specific projects and activities, wherever we may be. 
A Site Example: The Home of Midwest Permaculture
Bill and Becky have been working on the design of their home in Stelle for the past 15+ years and take time during every course to share their experience designing their yard. They will answer any questions and share the challenges, joys, and learning experiences they've gained from "walking the talk" of permaculture design. 
Over time, the home of Midwest Permaculture has been completely transformed from your average suburban parcel into a beautiful, productive, and ecologically friendly oasis that preserves rainwater, supports native pollinators, provides a wide variety of foods, and builds soil in the process. This is a great example of what could be explored during an in-person course!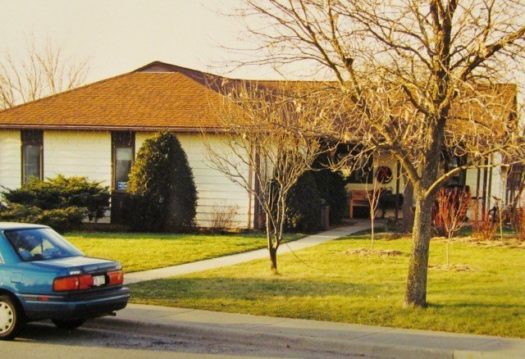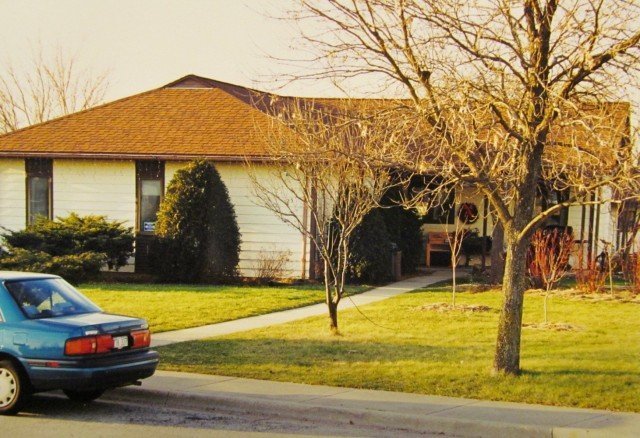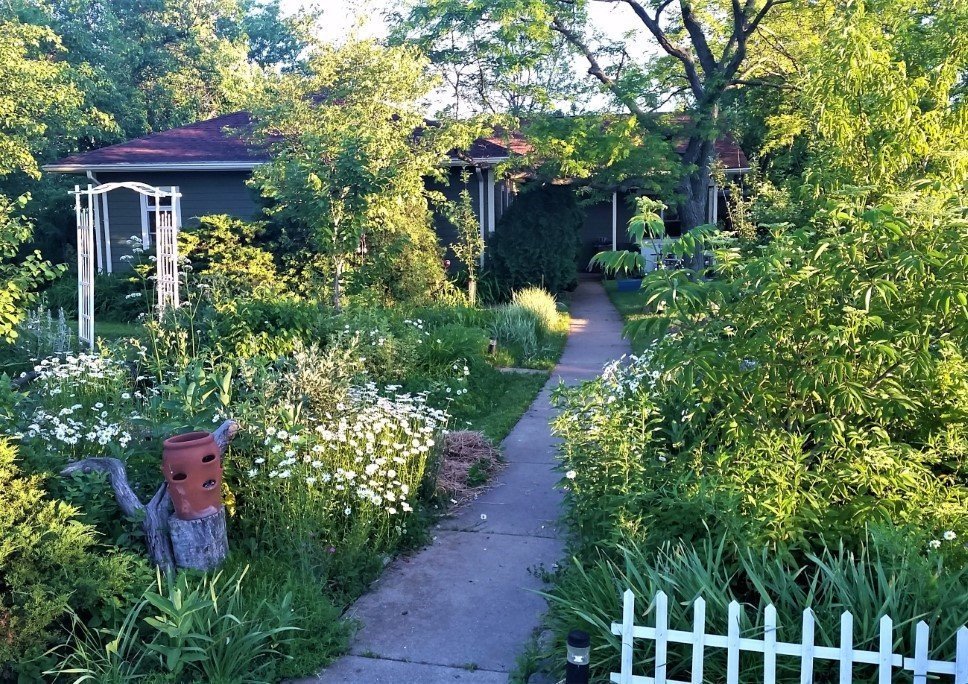 Arrival and Registration
From 9:30-12:30 in the morning
Course starts promptly at 1:00 p.m. A light lunch will be offered around noon.
Once the course starts we will be full-on for the entire week so arrive on the early side, get setup  and relax a bit before this permaculture adventure begins.   (More details regarding being at the course will be sent to registered students 3-4 weeks before the training dates.)
As you can see, these are very-full days.  But because we break up the class-time with videos, exercises, discussions and more, students enjoy going into the evenings without feeling fatigued.
Meals & Open Camping Included
The basic registration price includes all your meals beginning with lunch on the first Saturday. Meals are typically prepared by our hosts with many organic and locally sourced foods, and we'll always have a vegetarian option. Are you vegan or gluten-free? Just let us know when you register, and we will gladly accommodate your diet. All of your meals are provided from Saturday lunch on the first day through Saturday lunch on day 8.
When available and depending on the site, there may be additional lodging options for an added fee. From small cabins to spare rooms, there is usually a way to take the course with a roof over your head (if you prefer).
There is also always the option of renting a motel room anywhere in the surrounding area.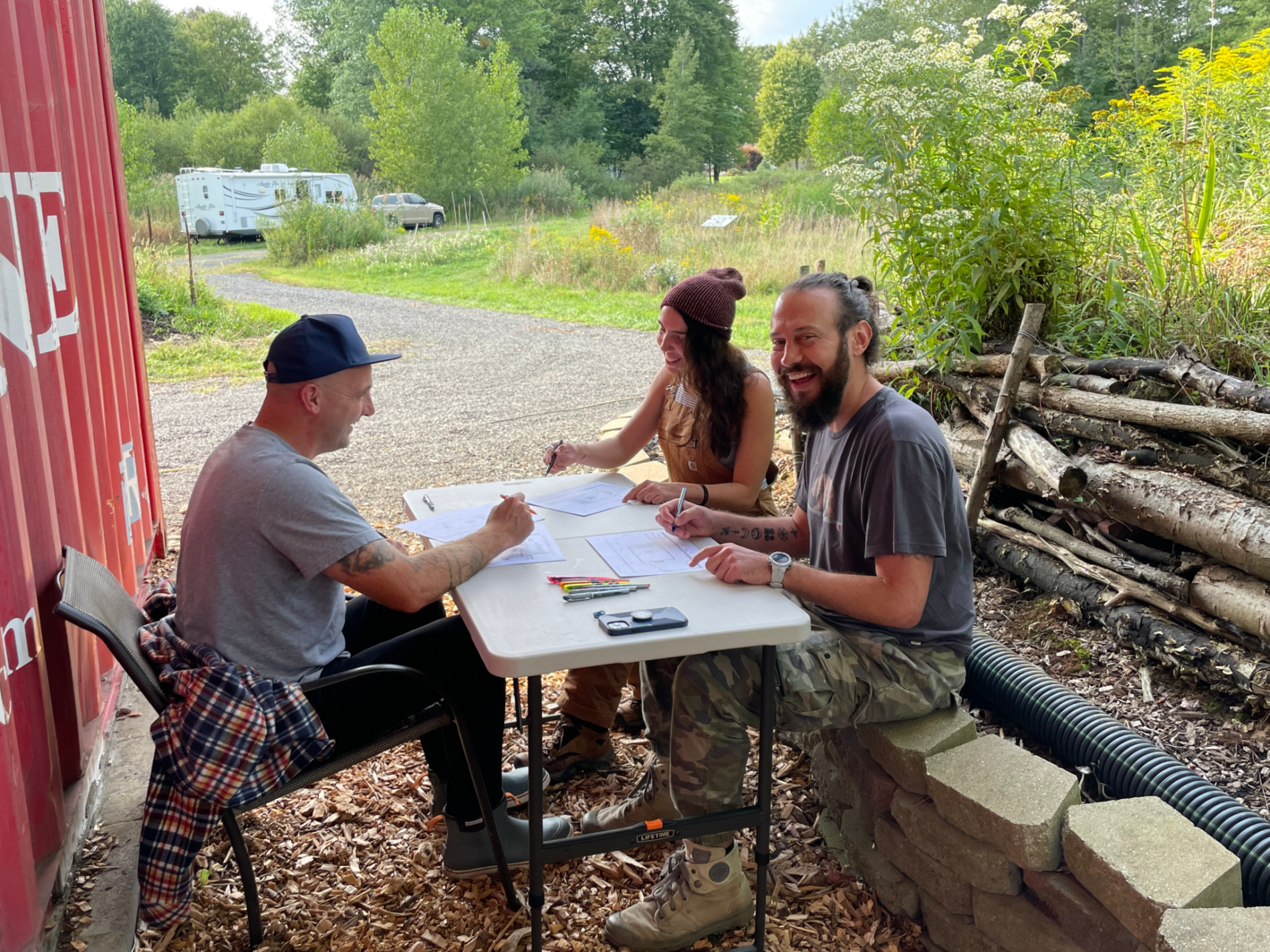 Participation in a final design project is a requirement of certification. We typically divide students up into groups of 2-4 persons, all working on one of the student's own design projects.
Want to work on your Own Design Project?
Depending upon the number of students with projects, it is likely your project could be selected or you will be able to work on a project very similar to yours. If you want your project to be considered, bring the following:
 Our instructors determine the final design project selection, but students' preferences are strongly considered.
(The book is snail-mailed and should arrive within a week following your registration.)
What to Pack & Other Details
About 4 weeks before the on-site training begins, students will receive more information concerning what to pack, when and where to arrive and other details. No big surprises here. Just the usual stuff.
Students who complete this design course will receive a 'Certificate of Completion' from Midwest Permaculture, which in the permaculture tradition, allows them to use the word 'permaculture' in the promotion of their work or business. Graduates may offer workshops, lectures and design services.
"This was unequivocally the best educational experience of my life. You made permaculture completely understandable and I am so inspired to implement this work. This training has tied it all together for me. Thank You."
"Thanks so much for all your work!! I was so inspired by the course. I've already integrated permaculture into a community project I'm working on. After 25 years of landscaping, I needed this boost of BLISS!"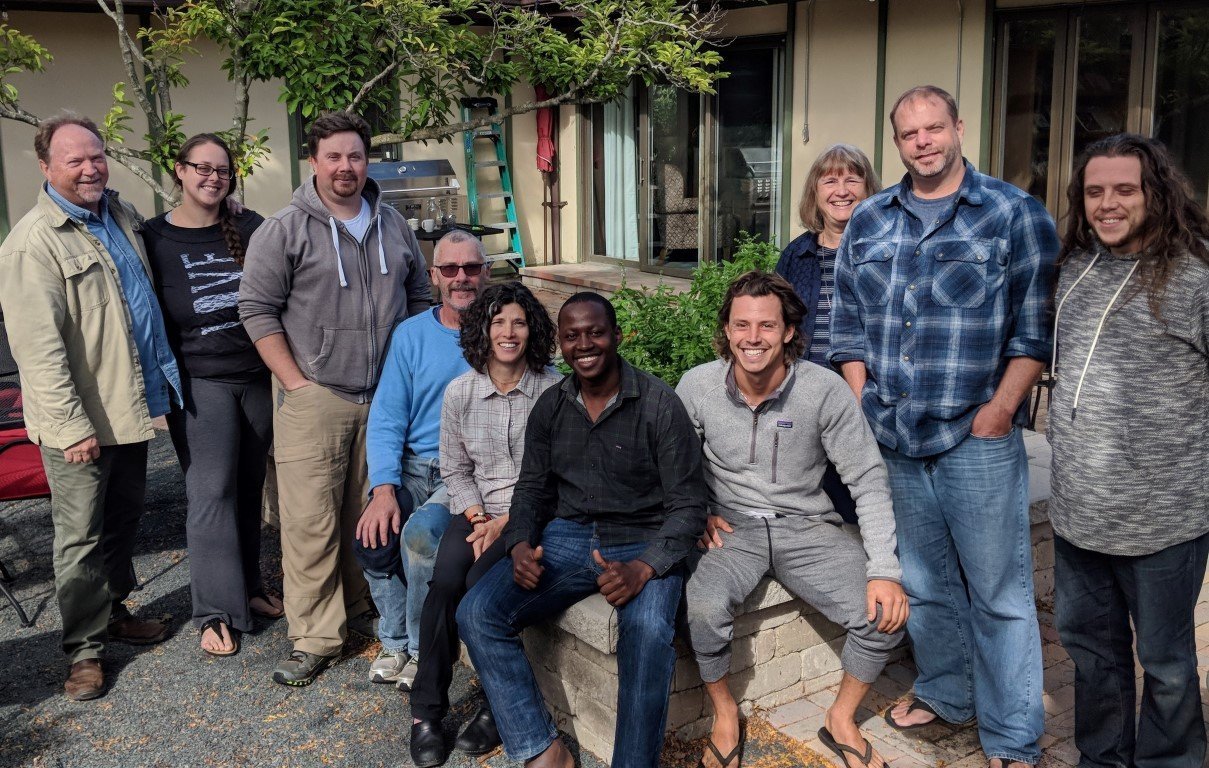 Continuing Support Following Graduation
Students who have completed a Midwest Permaculture design certification course (PDC) are invited to become part of our growing network of graduates. There are three ways we work to support our graduates:
We offer the course at half-price to any graduate who would like to experience the PDC once again. This includes our new On-Demand PDC for just $247.50​
We host a private networking site for our students to connect with other MWP grads
Graduates have an open invitation to join us for our twice-monthly office hours held over Zoom
Graduates will always have free access to our live 'Quick-Design' Charrettes to continue their learning experience and to stay in touch with us and other students.
Our objective is to support our students for as long as they need it or want it, and to encourage them to support each other.
$1450 -- The Early Registration Price 60-days out
Pay in Full or Make a Deposit
If starting with a $350 deposit works best for you, choose that option. It will reserve your seat in the course, you'll receive the Foundations of Permaculture webinar series right away, and you will be invoiced for the balance either before the early registration period ends (if you've registered well before this) or shortly before the course begins.
Groups (Families, Couples, Friends)
If you have a family member or friend who would also like to take this course we offer a $300 discount for this person. And you can invite more than one additional person at this price.
$1595
first person/$1450 early registration
$1295
for each additional person/$1150 early registration when registering as a group in the same course.
Registration for groups or couples.
Each member of a group registers separately with a $350 deposit. Note in the comment section the name of the person you are registering with. After we receive your deposit you will receive an invoice from us for the balance at the group rate divided equally among participants. The balance needs to be paid before your course begins. 
When you register separately, you will each receive your own access to the online course materials.
Should My Spouse/Partner/Close Friend/Family Member take the course with me?
If there is someone(s) who is intimately involved in whatever project you are undertaking, our students have repeatedly told us that it really made a difference when all parties involved took the PDC together.
Going through one of our PDC courses tends to create a mind and heart shift in most people that cannot be transferred by conversation later on to others. Most people leaving the course never look at land the same way, and the concepts and ideas they now have can be fundamentally different than when they began. How does one explain this to their loved one(s)?
All we can tell you is that most people experience an inner shift by the conclusion of the training and to be able to experience this with those you will be working closely with is priceless. If there is any way the other(s) involved with your project can join you, we, and most all of our students, highly recommend it.
Already A Permaculture Design Course Graduate?
We offer a 33% discount to students who have already earned their PDC Certification from another recognized teacher (from anywhere in the world) who wish to take one of our courses as a refresher. Please call or email us for details.
Low Risk Cancellation and Refund Policy
Should a student have to cancel their enrollment in the course up to 30-days before the on-site portion of the course begins, there is a full refund less $350. You do however retain access to the Foundations of Permaculture Webinar Series ($195 value), keep the course handouts and text-book, and receive a full $350 credit toward another PDC course within 3 years.
If a student cancels within the 30-day period before the course there will be a full refund less $450 and the student still receives a $350 credit toward a future design course. The credit is good for up to three years.
There are no refunds for cancellations or for withdrawals once the course begins. However, in certain circumstances, we may extend partial or full credit towards a future design course.

Feel free to contact Becky with any questions.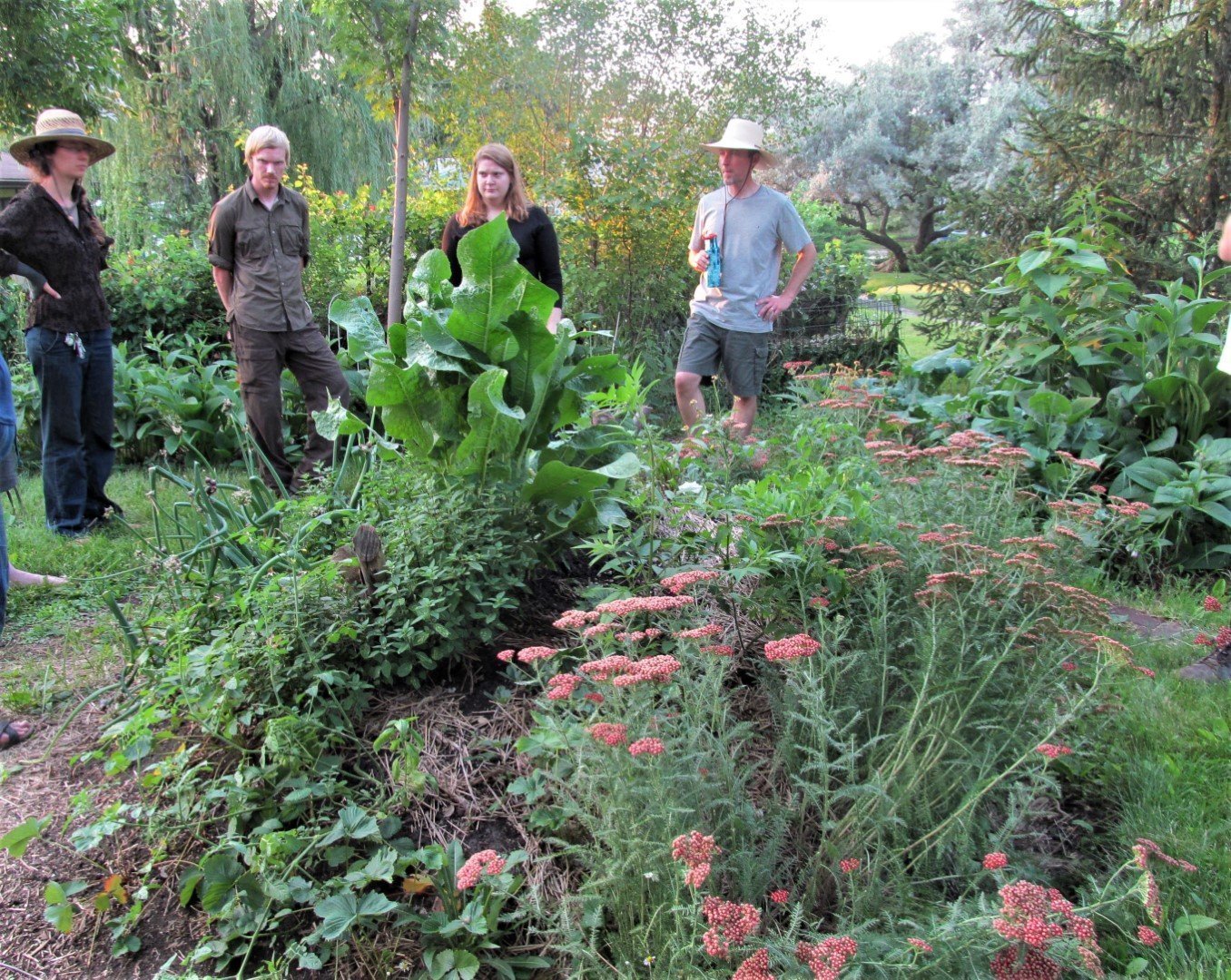 We would love to have you join us.
The experience of taking a PDC course in person is almost always deeply impactful. As teachers, we feel it is our job to deliver the best quality training we know how to our students, and we take this responsibility seriously. This subject is too brilliant to share in a ho-hum way. We see the course as a journey into wonderment, self-confidence, and endless possibilities. Keep an eye on our schedule for upcoming courses!