Property Design Mini-Course (PDMC)
On-Demand
The PDMC is a course built to help you design productive, resilient, and beautiful landscapes that provide food and water security for yourself, your family/friends, and future generations. 
Sustainable, Practical, Permaculture.
This course will take you, step-by-step, and in the most logical sequence, through the permaculture property-design process.  The training explores a multitude of ingenious strategies to grow nutrient-packed foods, increase efficiency and yields, and work with nature to minimize work and enhance ecological abundance.
Led by Bill Wilson (head teacher/designer of Midwest Permaculture for over 16+ years) and Megan Christian (experienced MWP designer and teacher), this course will give you the confidence to start implementing permaculture design in your outdoor spaces on a residential, homestead, or small farm scale.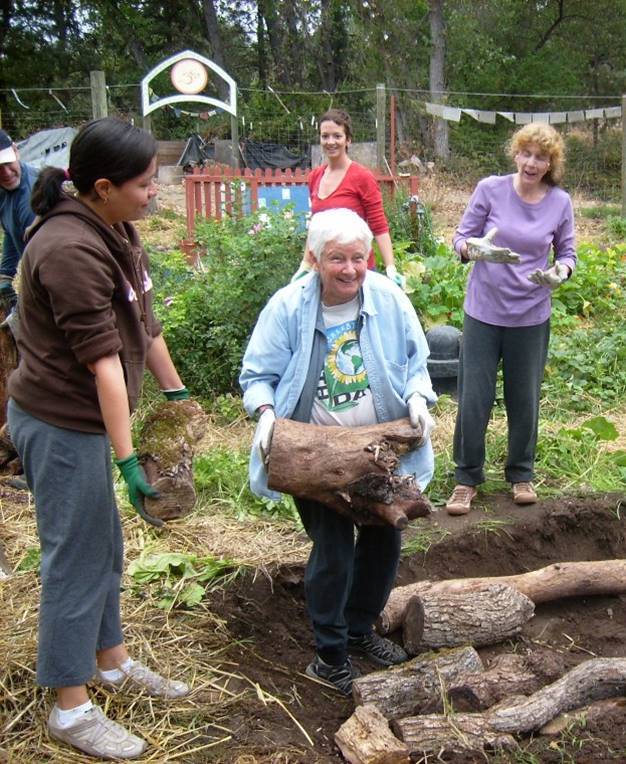 What is Covered in These 6 Info-Packed Recorded Sessions?
Session 1-4
The Residential Design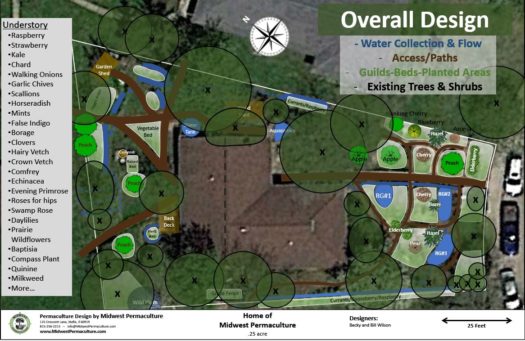 Focus is on Permaculture Zones 1 & 2 (home and yard)
Session 6
Small Farm Design (10+ Acres)
Focus is on Permaculture Zone 4 – Long-term, larger scale production systems
Each week builds upon the last. The 5th and 6th sessions are not sold separately of 1-4.
When you complete the sessions, one-on-one consultations with Bill are available for a fee if you would like him to review and add his own input to your final design.
We'll Explore Other Student's Real Design Projects
Enjoy the recorded webinars as Bill Wilson and Megan Christian walk everyone through the design process and conclude in the later sessions by brainstorming various ideas and suggesting what changes the student might make to their design. This is not design theory or exercises; these are real people, with real properties and tangible goals, who have laid out their best design work gleaned from the multiple PDMC sessions and accompanying resources. 
"This training was so interesting, put together well and contained so much solid/useful information. It honestly felt like I was going through the training live with the other students. Bill's teaching ability has got to be about the best I've ever experienced. I learned more than I could have imagined and am confident in the design plan I created. I'm excited to get started on it! Thank You for this course. An incredibly great value for the money and time I invested."
Purchasing The Property Design Mini-Course (PDMC)
Would you like us to review your design work?
Add On a Private Consultation with Bill & Meg
After you have gone through the training, gathered up your own site data, and come up with your best design ideas, we'd be happy to give you our thoughts and ideas for your project with a private consultation over Zoom.
Residential Design – Up to 1.5 Hours

$350

Homestead Design (1-10 acres) – Up to 2 Hours

$425

Small Farm Design (over 10 acres) – Up to 2.5 Hours

$500
You can purchase the consultation time either now (when you register) or later after you have finished this self-guided journey. There is no price penalty for waiting. Securing a consultation later can be done on the actual course page as you get toward the end of the training (you'll find it) or, just email Megan at megan@midwestpermaculture.com.
How to Access the Course After Ordering?
You will always be able to access any course you have purchased from us from the upper right-hand side of any of our webpages under 'Login' or 'My Account'. Here are the 3 Simple Steps to Finding Your Course if you need a bit of assistance. 
50% Off for Midwest Permaculture PDC Graduates
If you are one of our PDC Course graduates, you will receive a 50% discount for this course.
The Property Design Mini-Course is a wonderful refresher if it's been a while since your PDC. This course will take your design skills to the next level since we spend more time covering digital design than we do during the PDC.
To register as a past graduate, send an email to becky@midwestpermaculture with your name and the location of your course, and Becky will verify and register you directly.
You don't need to own property to take this course!
"Before we went to look at the property, Bree and I had already pulled up all of the site data which we learned from the course. As we walked the property and ran some percolation tests they thought we were some sort of university professors. The property was exactly as we had envisioned it through our digital research. I can now see potential and challenges with every property we look at Bill. This is really exciting. Thanks so much for bringing it all to life for us."
Included with each package is our 'Site Data & Digital Design Tutorial

Why This New Design Training?
      I'm glad you are considering this training. If you are in a hurry to gain the essential understanding to design your own property, this mini-course might be perfect for you.
      Having walked over 2000 students and clients through the foundational permaculture design process, we know what essential information people really need to see the potential (and challenges) of any given piece of property. This training sheds light on this information in a condensed, easy-to-digest way.
      I know you would gain a world of understanding and inspiration from the full Permaculture Design Certificate (PDC) course, but I also know that the time and financial commitment for a 72-hour training can be a hurdle for many.
      By offering this course in a recorded format, you get to learn from home, eliminate scheduling conflicts, design your own property (if you have that), and receive a phenomenal permaculture training. This is a true permaculture model in efficiency.
      Our goal at Midwest Permaculture is to get permaculture thinking/living/designing out into the world. I trust that this training will help.
Here's to creating beautiful and functional properties in the world…Bill
Frequently asked questions: