The Property Design Mini-Course
Live Online
Create a 'Framework' Permaculture Design for Your Own Property
With Our Guidance Along the Way
Next Live PDMC Course
Winter: Begins Feb.20, 2023
All on Mondays from 6:00-9:00pm
Week 4 (Residential Students Complete)

$495 - March 13

Week 5 (Homestead Students Complete)

$645 - March 20

Week 6 (Small Farm Students Complete)

$795 - March 27
Discount of $50 Applies for Early Registrations Received before Dec. 20th
Need It Now?
Our On-Demand "Recorded" Property Design Mini Course Is Available Instantly
Weeks 1-4
The Residential Design
The Focus on Permaculture Zones 1 & 2 (home and yard)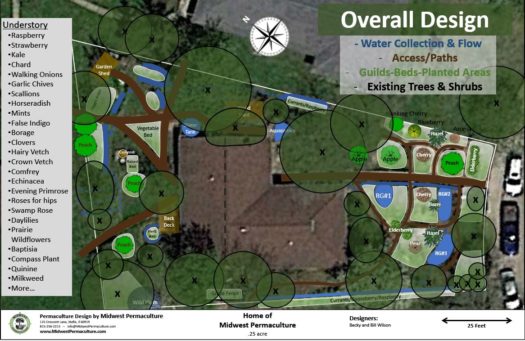 Weeks 6
Small Farm Design (10+ Acres)
Focus is on Permaculture Zone 4
Note: Combining graphic design work with photo images as seen here is easy for us to do using PowerPoint or Google Slides. We'll show you how. 
3-Hours on Monday Evenings (6:00-9:00pm Central)
Plus 2-6 hours each week of your own study/design time
It Takes Four Weeks to Design your Residence (up to 1 acre)
Add a Fifth Week if You are Designing a Homestead (1-10 acres)
Add a Sixth Week if you are Designing a Small Farm (10+ acres)
Each week builds upon the last. The 5th and 6th weeks are not sold separately. When the course is complete, one-on-one consultations with Bill are available for a fee if you would like him to review and add his own input to your final design.
What is included in Each Session?
You do not need to own a property to take the course!
Why This New Design Training?
I'm glad you are considering this training.
Having walked over 2000 students and clients through the foundational permaculture design process, we know what essential information people really need to see some of the potential and challenges of any given piece of property and to also learn the skills to create a good digital framework design.
I know you would gain a world of understanding and inspiration from the full Permaculture Design Certificate (PDC) course but I also know that the time and financial commitment for a 72-hour training can be a hurdle for many.
With the experience and success of our new Online PDC courses, we now know that we can effectively teach permaculture over the internet (Zoom) which makes this shorter training possible to deliver, and deliver it well. You get to learn from home, eliminate the travel, design your own property (if you have that) and receive a great permaculture training. This is a true permaculture model in efficiency. 
If you have done a lot of permaculture study, or are in a hurry to gain the essential understanding to designing your own property, this mini-course might be perfect for you. Our goal at Midwest Permaculture is to get permaculture thinking/living/designing out into the world. I trust that this training will help.
Now, should you decide to take the full PDC at a later date there is a $200 credit from taking this training toward any of our online, or in-person, PDC Courses. 
To All of Our 2000+ Existing PDC Graduates… there is a $200 discount off this training for you as well! This is a wonderful follow-up course to the PDC which will allow you to refresh and deepen your design skills. We take the time in this training (that we just don't have in the PDC) to dive deeper into the world of digital design. This course will take your design skills up to the next level and I will look forward to seeing your face again…!!! BDO
Here's to creating beautiful and functional properties in the world…Bill
Making It Look Like Something
The 8.7 acre framework design above was created by Bill Wilson, but the digital graphic representation you see is the work of Megan Christian, our computer-graphics permaculture designer. Megan will be an integral part of this training and will guide those students using Google Slides to create beautiful and clear design maps. Google Slides is free software and you do your work while logged into the internet.
Bill works in PowerPoint and will assist those interested with that software. PowerPoint is a Microsoft product that sits on your computer, that you pay for, and allows you to do your design work from your computer hard drive. Both work equally well once you spend some time with them.
Learning to use either program to achieve the results as seen above is easier than you might think. We'll show you how in this training, but your own individual practice is important to getting proficient at it.
Weeks 1-4
Feb. 20 – March 13, 2023
Weeks 1-5
Add March 20, 2023
Weeks 1-6
Add March 20 & 27, 2023
There are early registration discounts 60-days out.
Early Registration Discounts 60 days out
4-week Residential Design

$50

5-week Homestead Design

$65

6-week Small-Farm Design

$80
Discounts Automatically Applied on Registration Pages
Midwest Permaculture PDC Graduate's Discounts
If you are one of our 1800 PDC Certificate Graduates here is your discount.
4-week Residential Design

$150

5-week Homestead Design

$200

6-week Small-Farm Design

$250
See the special registration pages above set up for you. 
Low Risk Cancellation and Refund Policy
30+ days out receive a full refund

less $50

10+ days out receive a full refund

less $100

1+ days out receive a full refund

less $150
We do extend a full Credit for the non-refunded amount toward future MWP Courses up to 3 years.
There are no guaranteed refunds for cancellations or withdrawals once the course begins.  However, in certain circumstances, we may extend partial credit towards a future design course.
Onlookers Policy… Heck yes!
If you have a partner, friends, family members or children, that are also interested in permaculture and want to look over your shoulder during this online training they are certainly welcome to do so.
However… while online, they should be mostly observers. We can't have 7 family members all jumping in with their questions and comments.
For each registration there should be one key person working on one design.
But we are delighted if others are able to gain knowledge, wisdom and wonder from this mini-course too.
If you still have questions feel free to email us at . You can also call our mini-course training line at 815-246-2894 and leave a voice message, but email is always best. 
Note: We attempt to check email and phones twice a day and will get back to you for sure. If we don't return your call it either means we just could not understand your phone number or your call screening won't let us connect to you. Please email us if you don't get a call back from us within a day or two. Thank You. 
Not sure what you really need to design your property?
You can always just hire Bill to consult with you over the phone or Zoom at $300/hr.. He will brainstorm your property with you or discuss any questions you might have about your property. Our minimum charge to set an appointment with Bill is a 30-minute session of $200, paid in advance.
Do you want to take the course but can't attend the live classes?
It's Available to you Right Now