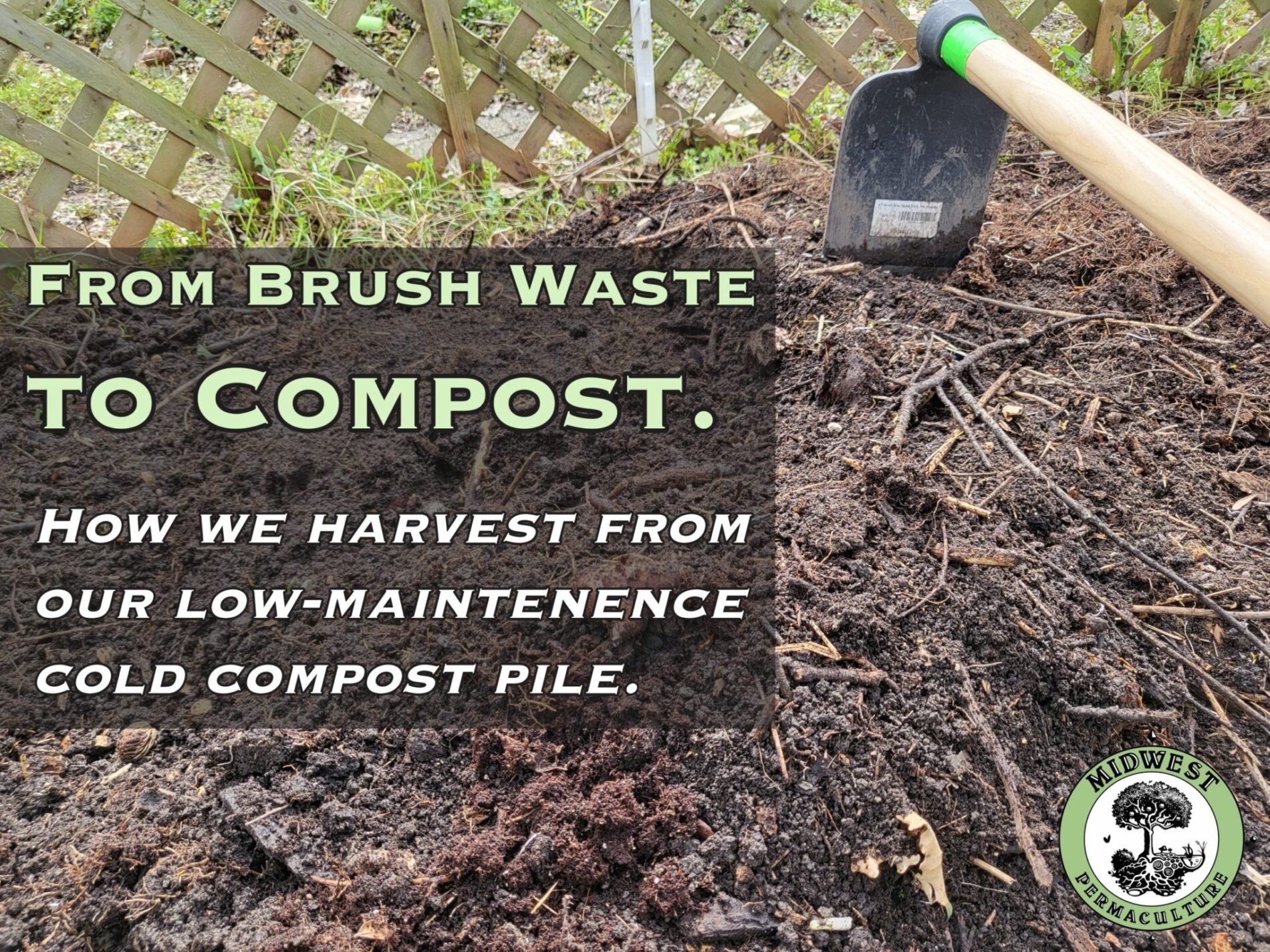 Spring is here at Midwest Permaculture.  It's time for the annual harvest from the bottom of our cold compost pile. Along with beautiful compost, we are always pleasantly surprised by another yield uncovered.
We started this area as a hugelkultur bed with a moat on three sides to retain water. Once filled with logs, sticks, and covered in soil, we planted the bed with Jerusalem artichokes and other plants for quite a few years before it was eventually repurposed into our cold compost space.
As we trim bushes, branches, and other rigid/reedy materials from our yard throughout the year, we place them here. We'll also through in some lawn clippings and weeds over the summer and dried leaves in the fall. We don't turn or regulate this pile in any way; we only rely on time and the life in the soil to break the contents down.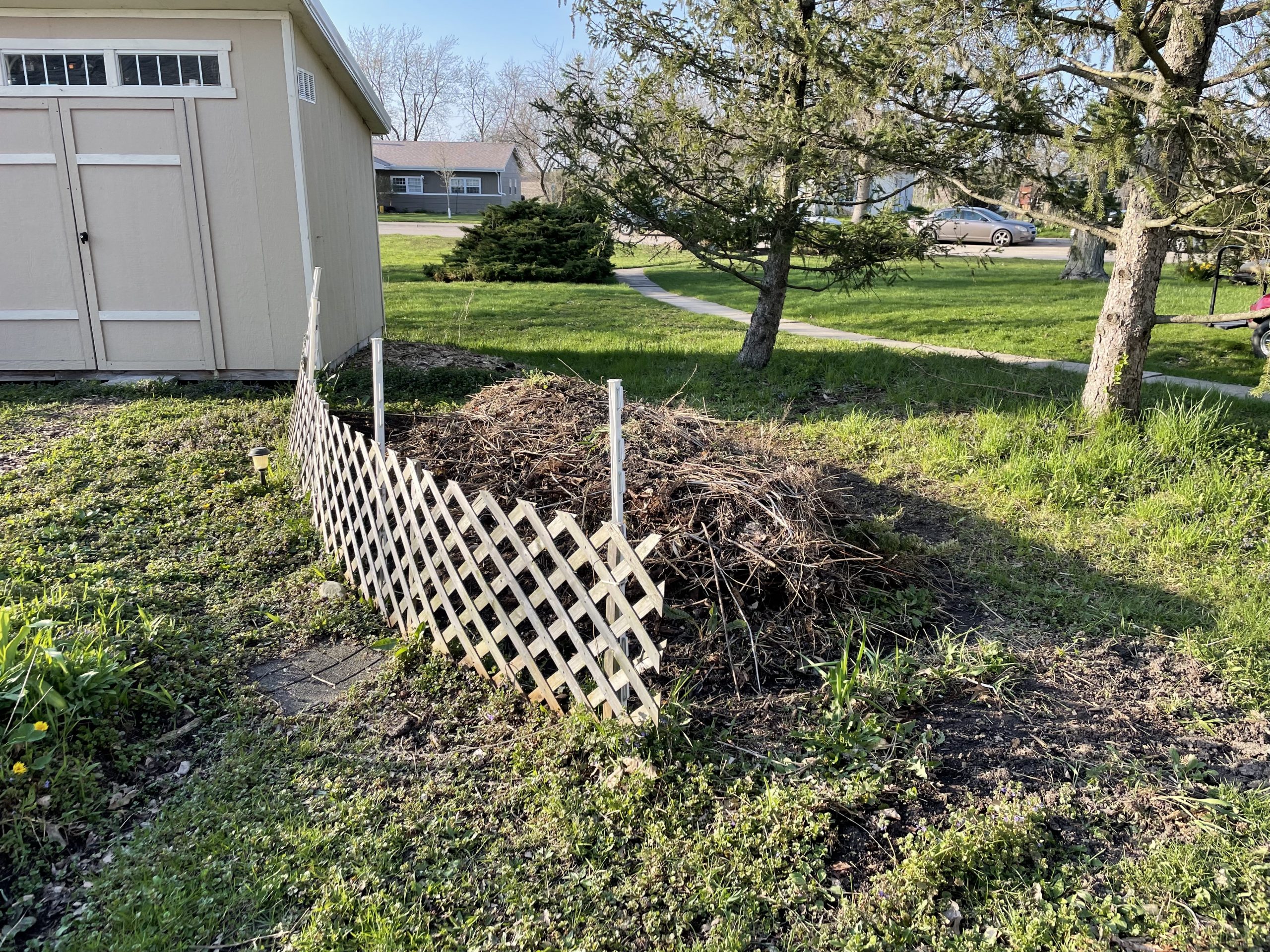 Over the year, the material in contact with the soil slowly gets eaten up and turned into humus. In the spring, we pull back the top mass of the pile to uncover the crumbly rich organic matter that collects underneath. This is a gold mine of nutrients and a wonderful soil texturizer for our garden beds.
We scrape off the top layer of composted organic matter down to the topsoil (each year, there is usually about a 2-inch thick layer of compost)…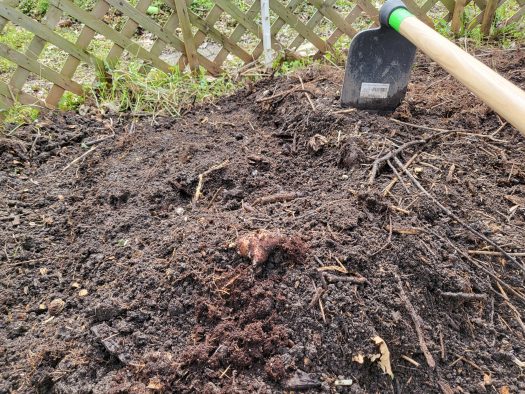 …screen it over a wheelbarrow to remove anything that hasn't broken down enough…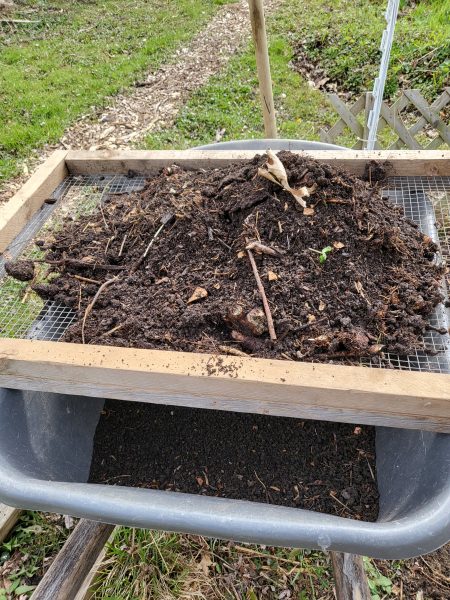 …and use it to top off our garden beds. This compost will provide most of the fertility we need for the year and creates a perfect seedbed!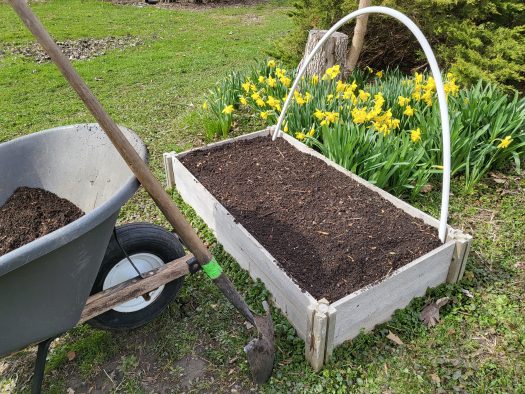 This year after removing the compost, we were curious to see if there was any woody material left from the original hugelkultur.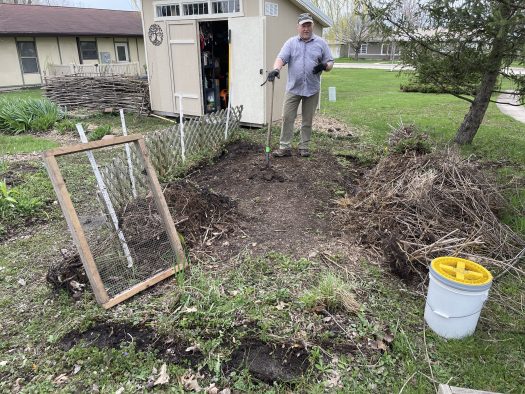 So Bill dug a hole to see what remained of the buried wood.
It turns out that everything has completely broken down. The decomposition of the large logs and sticks we buried here 11-years ago has led to the clay-heavy soil gaining incredible texture and drainage. It now does a great job supporting the growth of the other unexpected yield we find here each year–Jerusalem Artichoke tubers.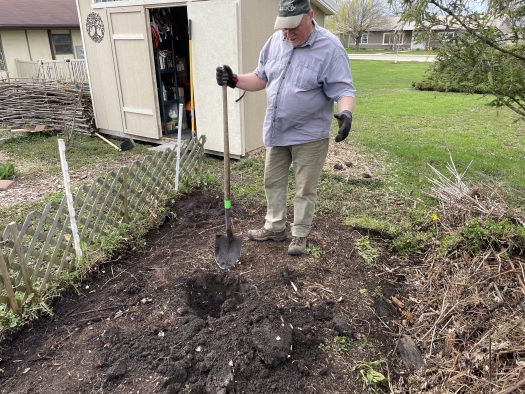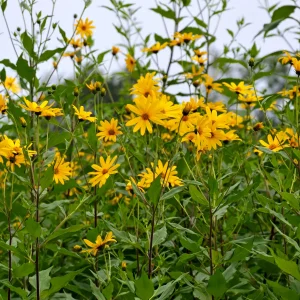 Although only a few of the Jerusalem Artichokes plants come up through or around the brush pile each year, the edible tubers of this tenacious plant continue to multiply in the soft organic soil below. With almost every shovel full of composted organic matter, more tubers are harvested.
It is reassuring to know that we have this abundance of food growing each year, and it doesn't require any active attention. Now, on to process the tubers!
This cold-compost brush pile is a low-effort way to create a valuable soil additive with ease, and all we are doing is harvesting the carbon (from branches, sticks, leaves, weeds) that comes off of our own property. It is our carbon. We grew it, and it is so satisfying to turn it into a soil additive.
Despite only needing attention once a year when we harvest, this cold compost pile provides a good amount of high-quality organic matter and nutrients. Throughout the process, our wastes become resources, work is minimized, and the clay soil is turned into a crumbly loam.
What yields other than Jerusalem Artichokes could we produce underneath a system like this?