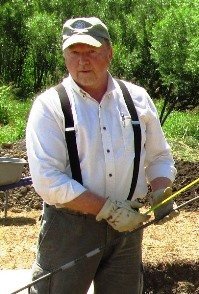 This is an April 2016 Blog Post on how we built a Thermal Mass Rocket Stove at Jordan Rubin's 'Heal the Planet Farm'. 
(We cover the foundations of rocket stove building at every Permaculture Design Certificate (PDC) course we host.)   Schedule of Upcoming Courses
We call it the Epic Greenhouse Rocket-Mass Heater because of it's sheer size and multiple modifications we designed into it. The whole stove is built around an 8″ flue system that exits outside of the greenhouse below floor level, under the greenhouse end-wall, and then turns towards the sky.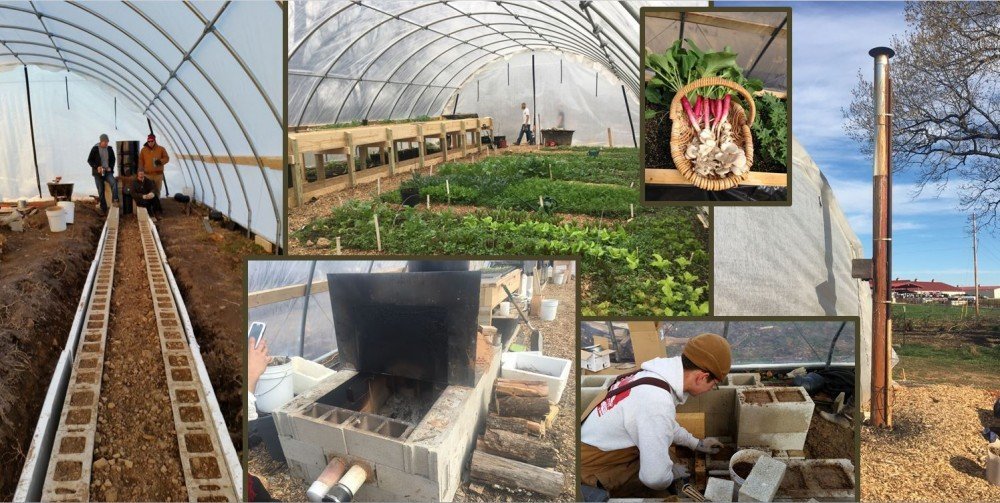 Designed by Bill Wilson (MWP) and Kevin Kepplinger (HTP Farm)
Construction and Design Assistance from Heal the Planet Farm Team (All are Midwest Permaculture PDC graduates)
The key modifications we made to this stove that are not usually found on more traditional rocket mass heaters are:
The feed chamber is very large capable of holding full-sized firewood logs so it can be loaded to burn for up to 4 hours at a time and produce a lot of heat.
The thermal battery or thermal mass is below grade and insulated so the heat will not wick into the soil surrounding it but instead radiate up to keep fish (aquaponics system) and bedding plants warm even in the dead of winter.
We installed a multiple-speed flue fan and a flue damper near the end of the exhaust pipe to give ourselves greater control over the speed of the exhaust and even the burn. We can slow the exhaust down to hold the heat in the thermal mass longer when it's hot or speed it up when we need a stronger pull to get it started. We know this is unorthodox and a bit like cheating, but it's very helpful and the fan is variable speed using very little electricity.
Continue to slowly scroll down to view over 40 pictures of the actual build & workings of the stove
…or…
Click here for our conclusions at the bottom of the page.
---
Picture Summary of the building of a Greenhouse Rocket-Mass Heater Build and its use from January-March of 2016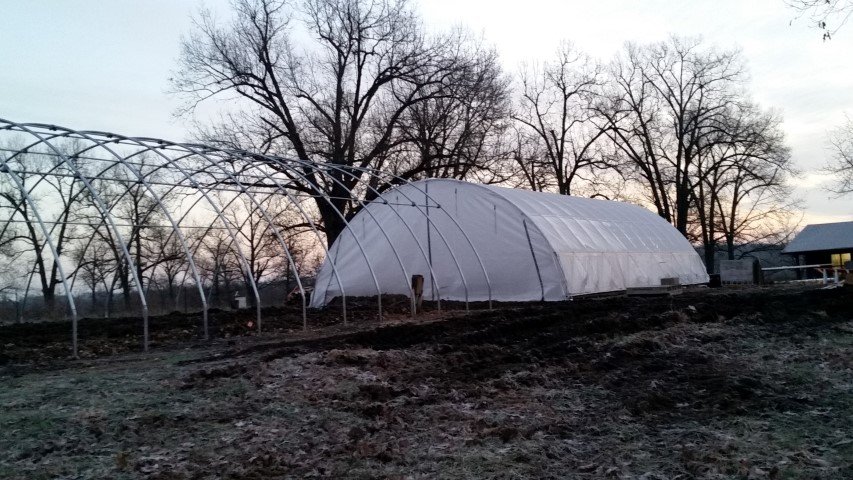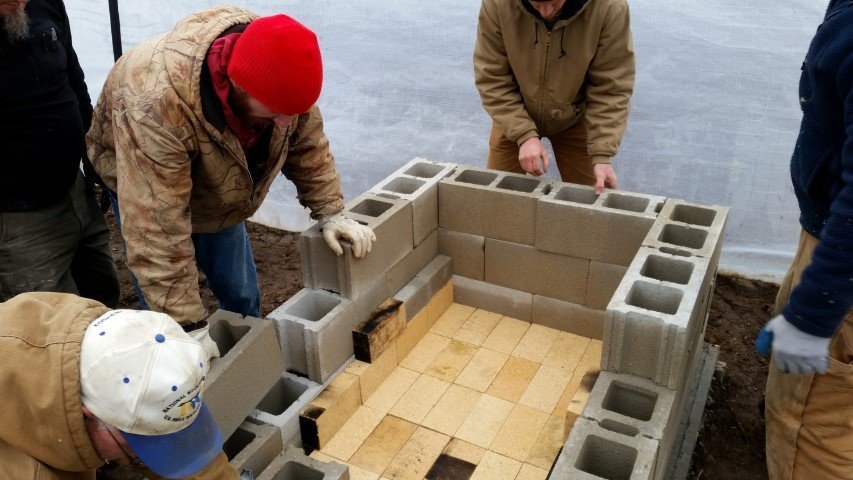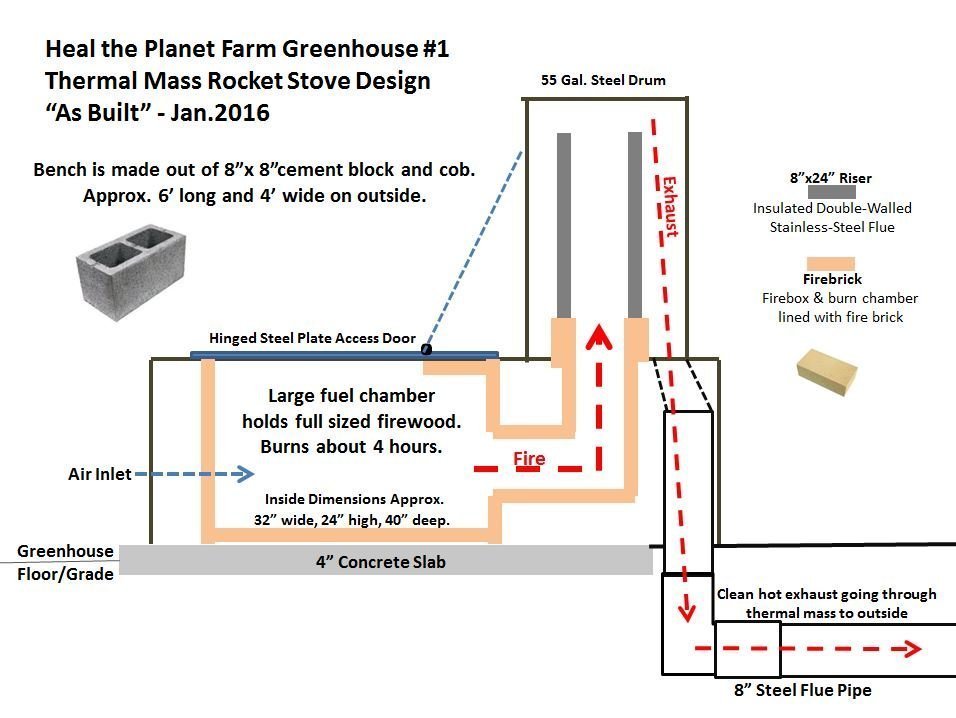 Here are two Sketches of the Basic Design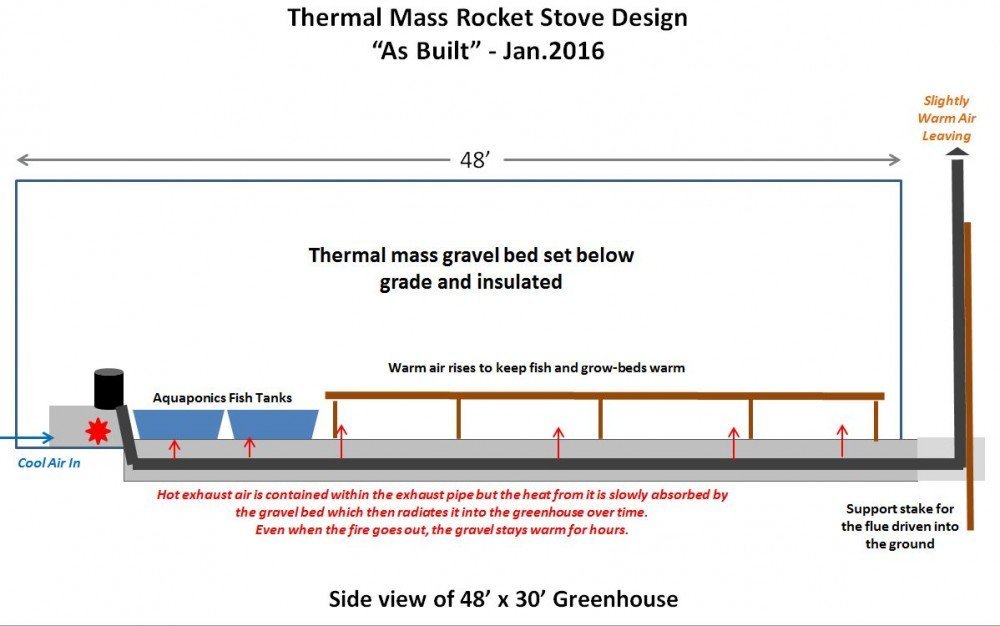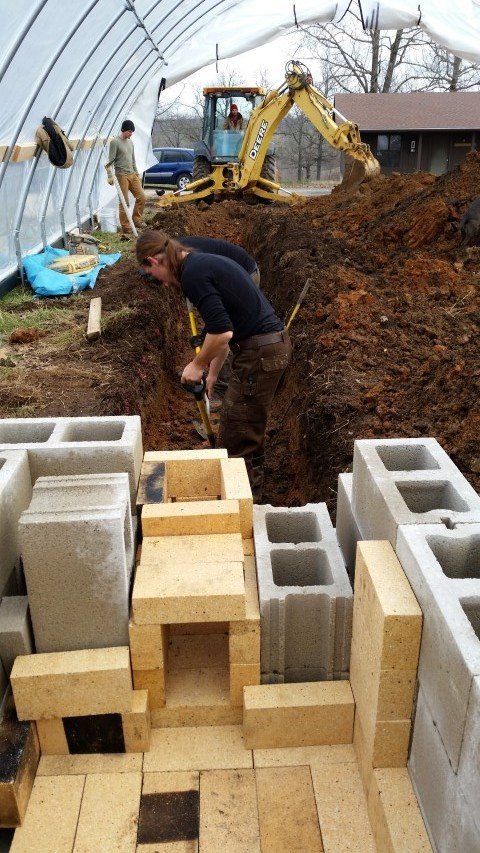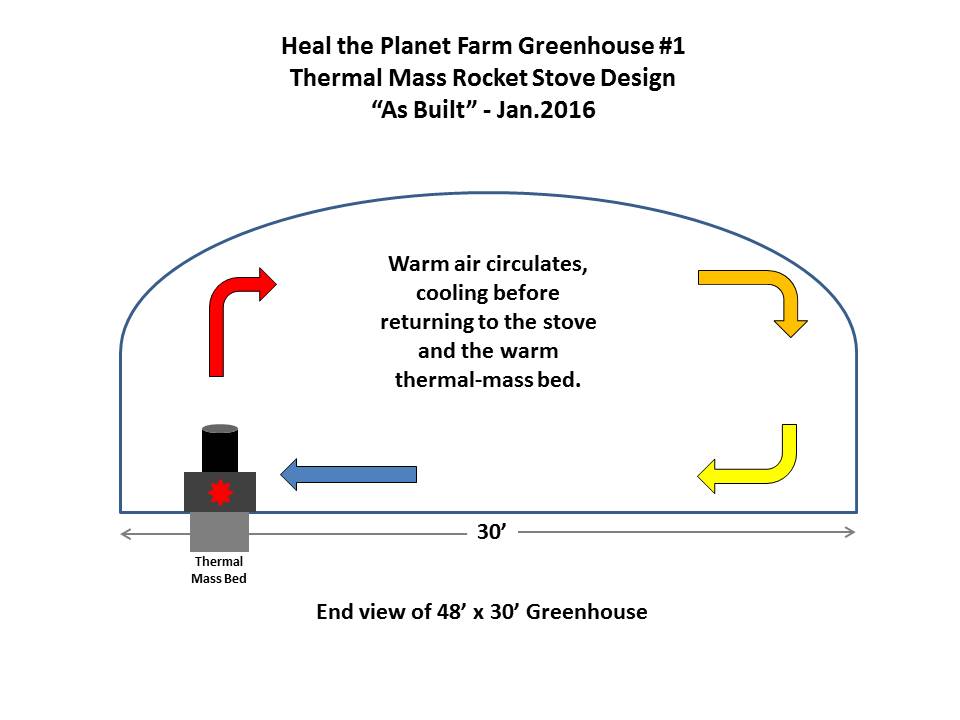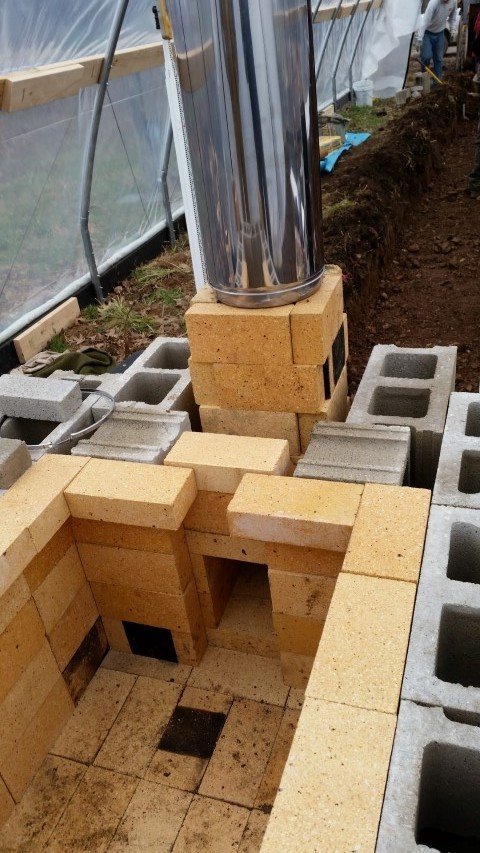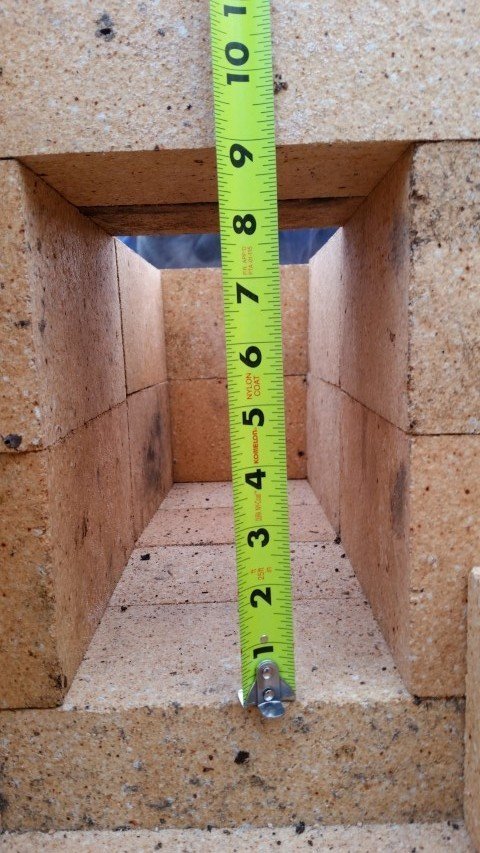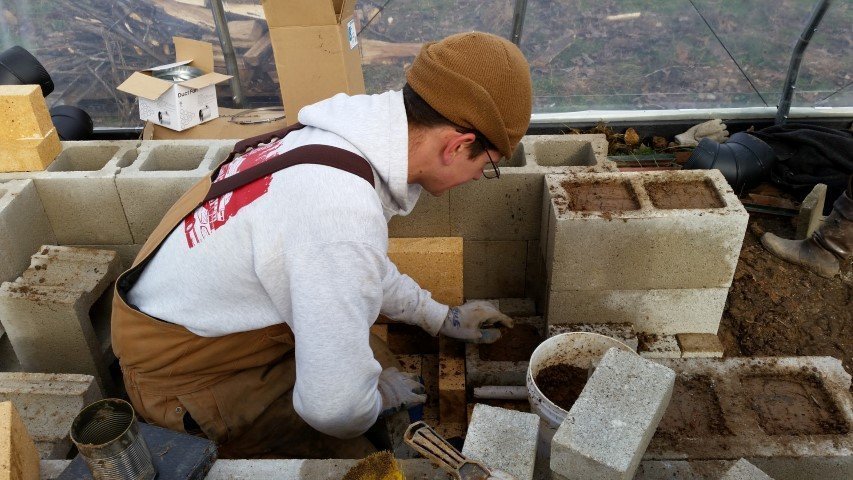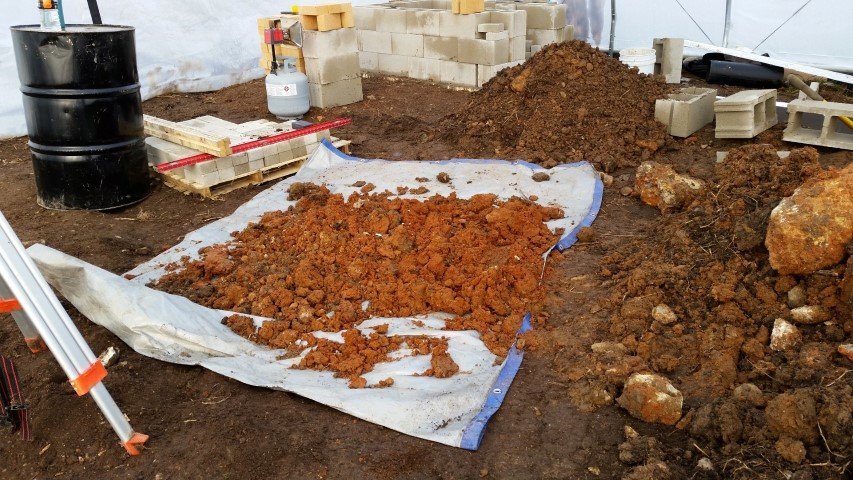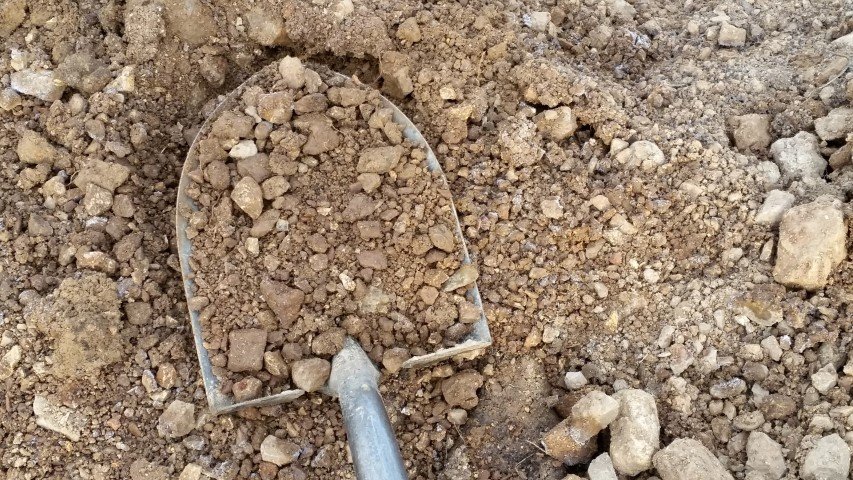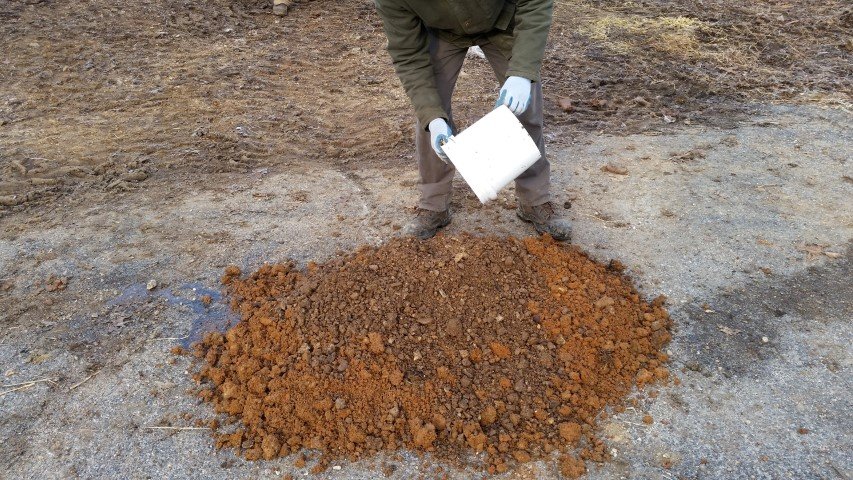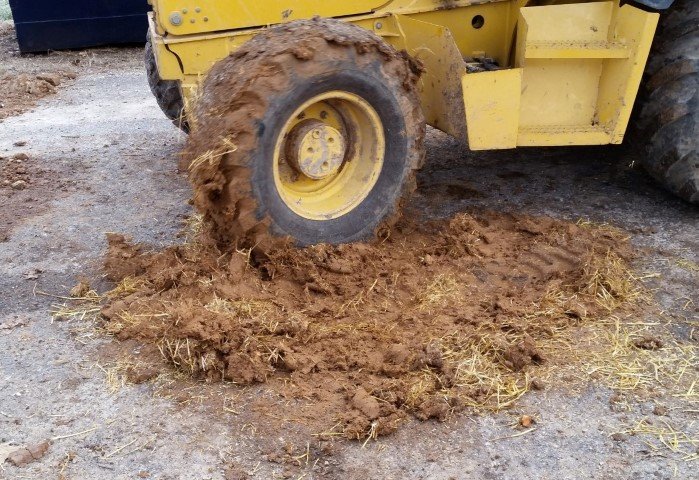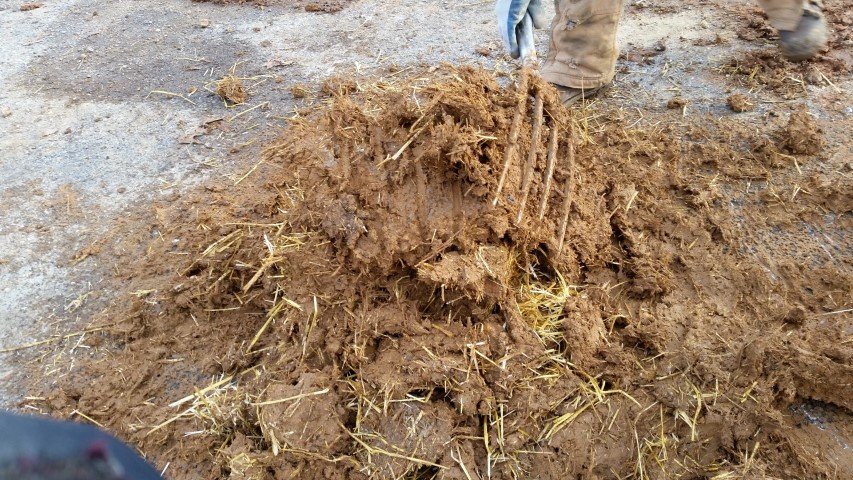 Here is a 45 second video of how effectively this large tractor mixes the cob.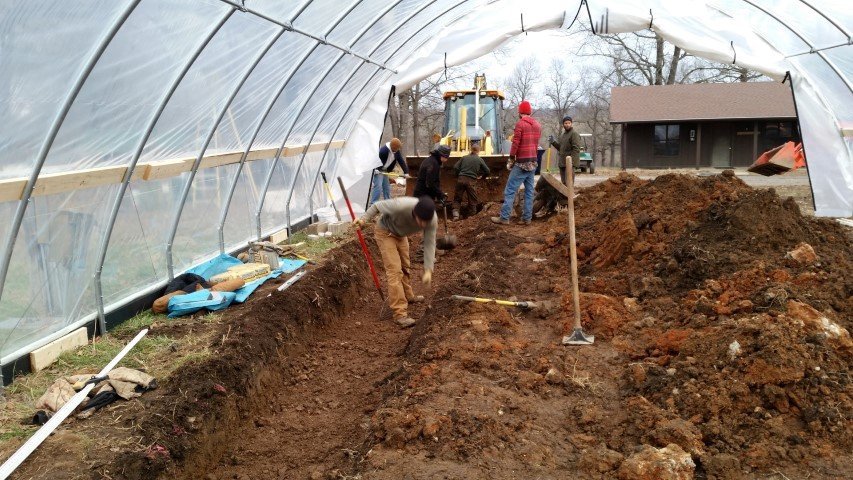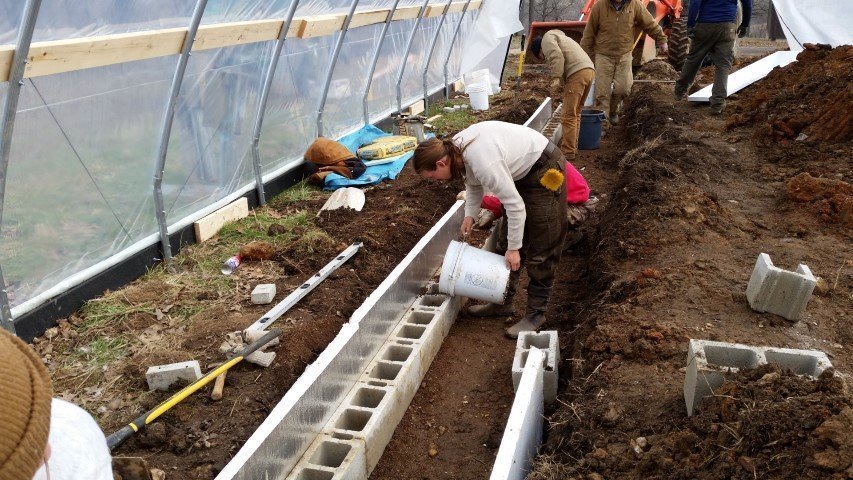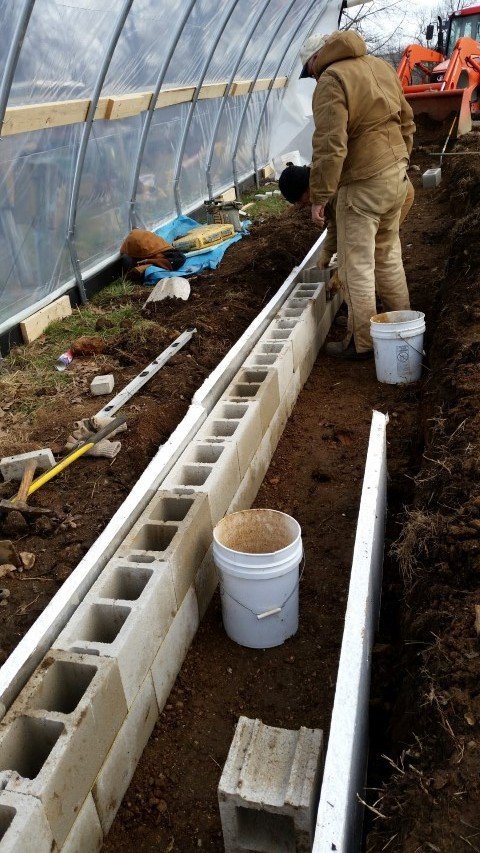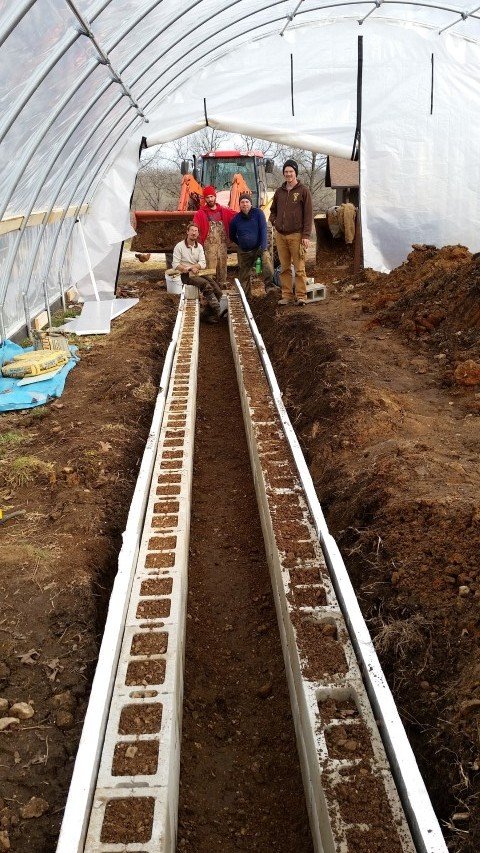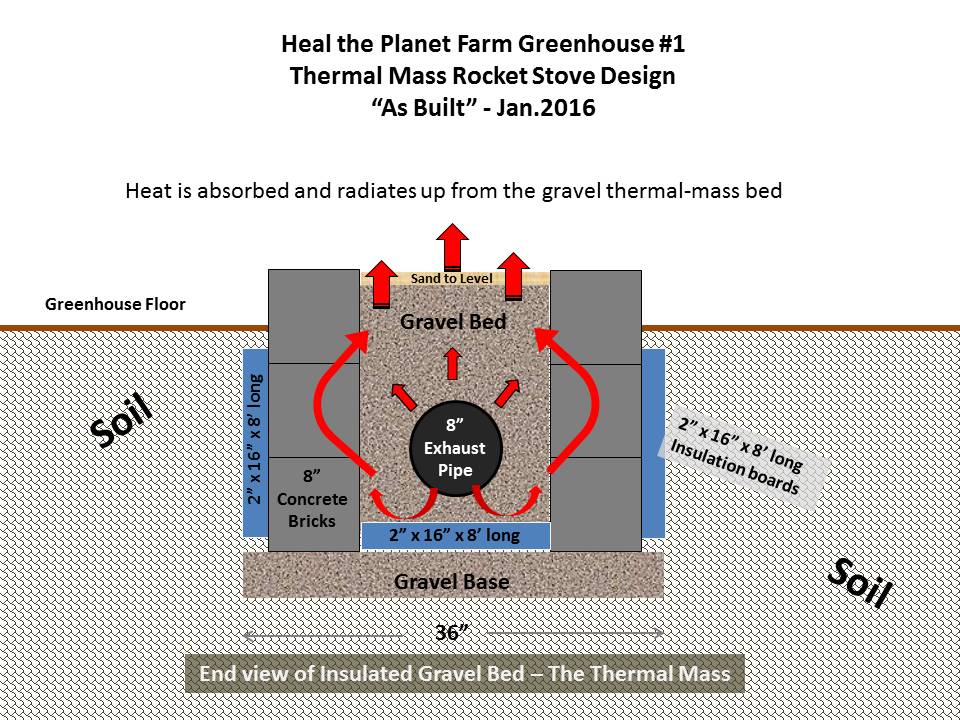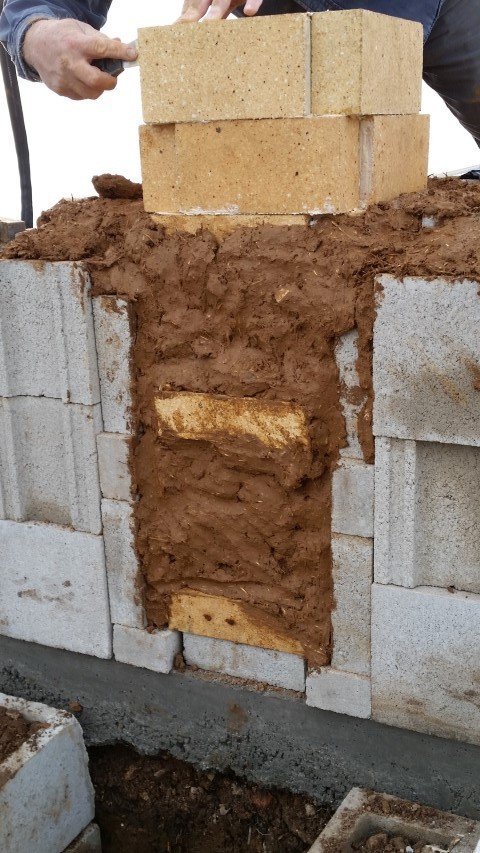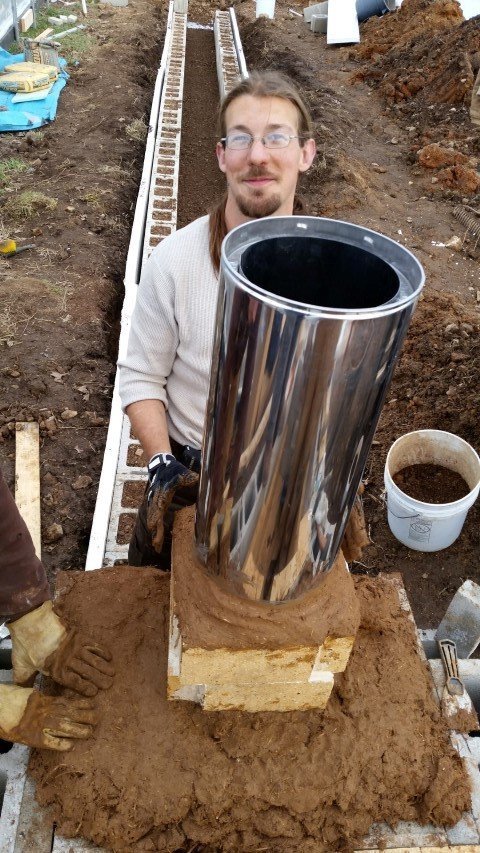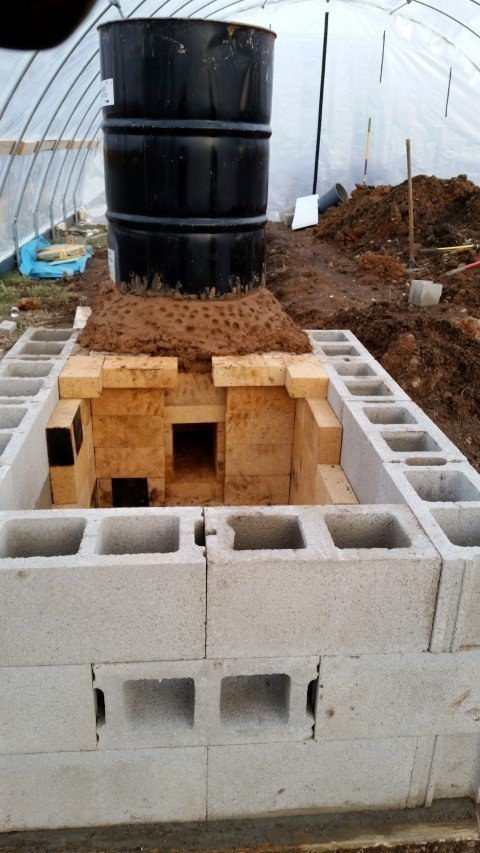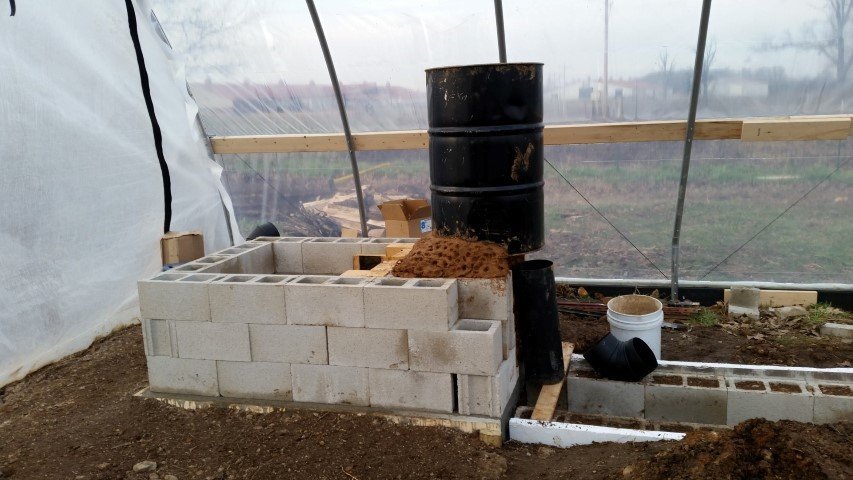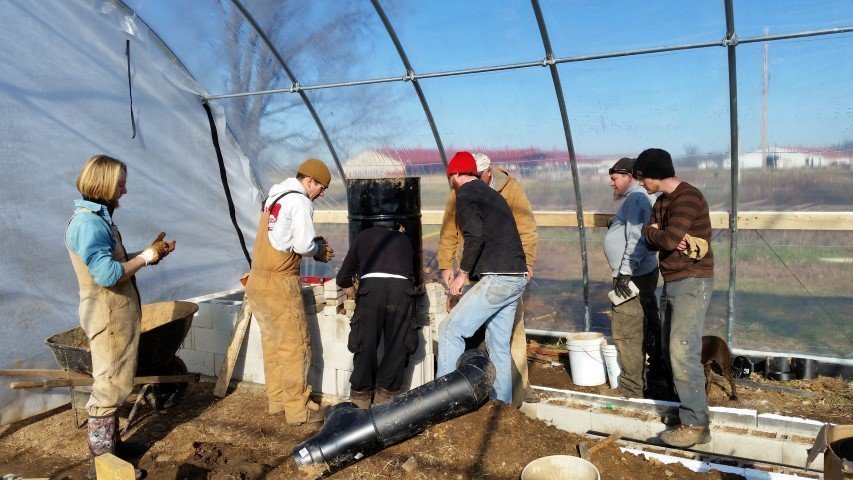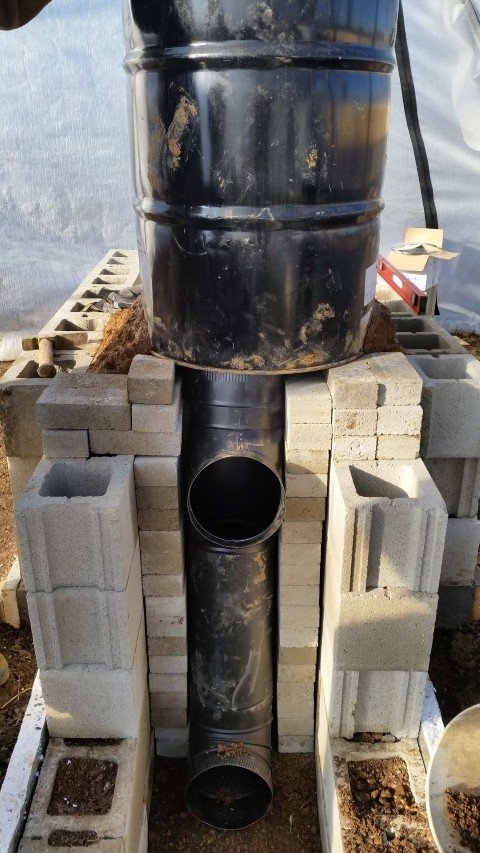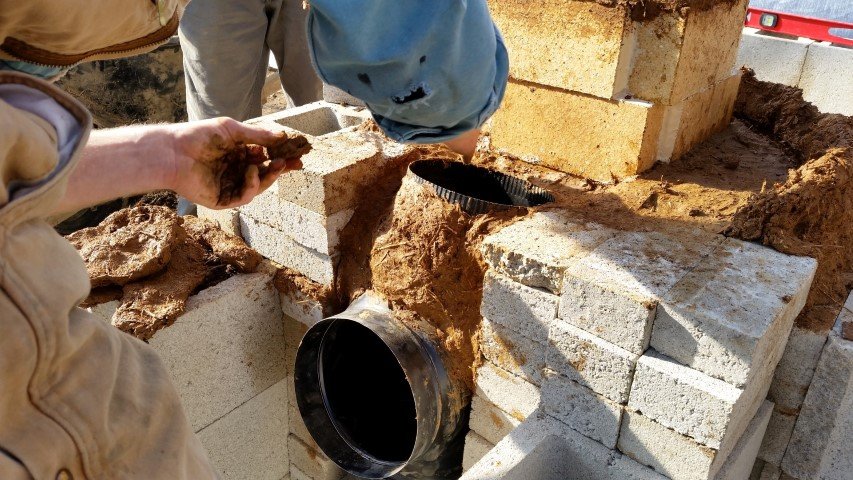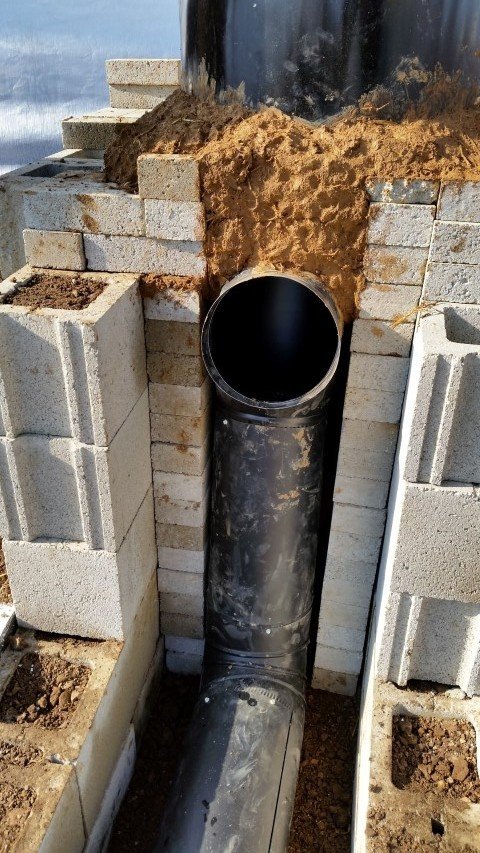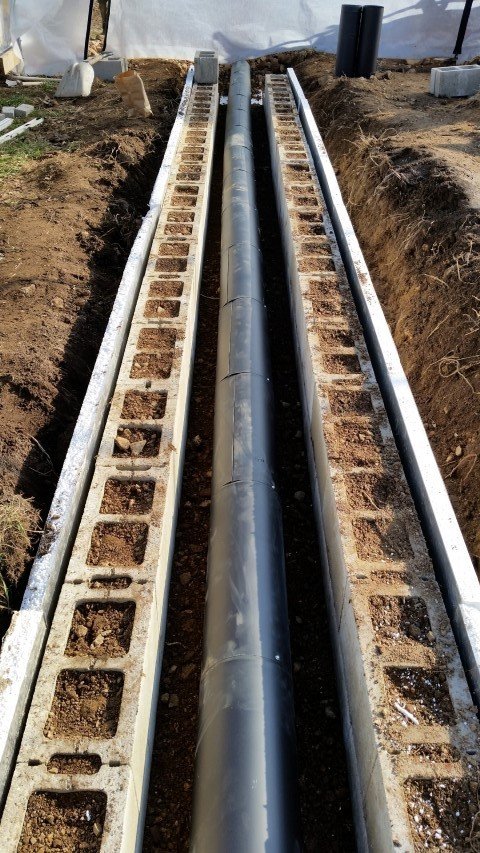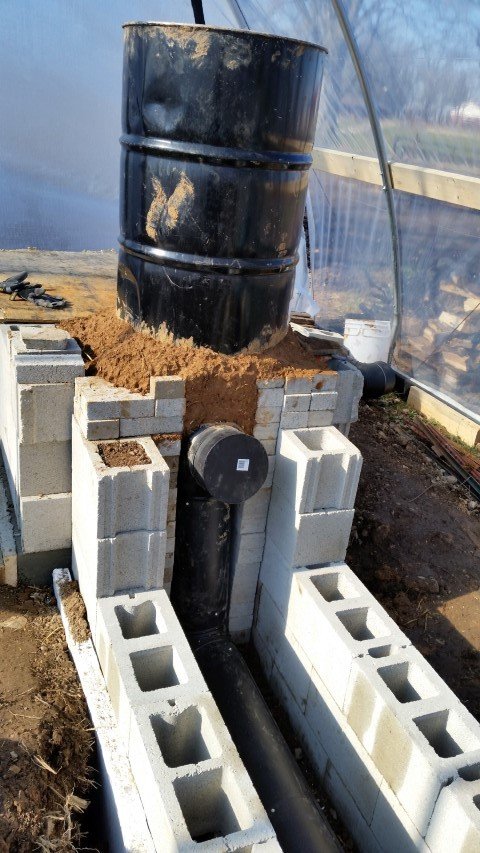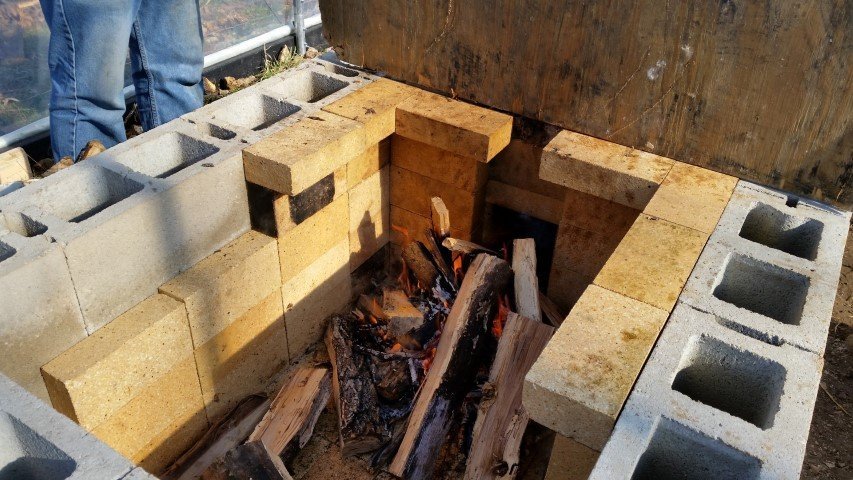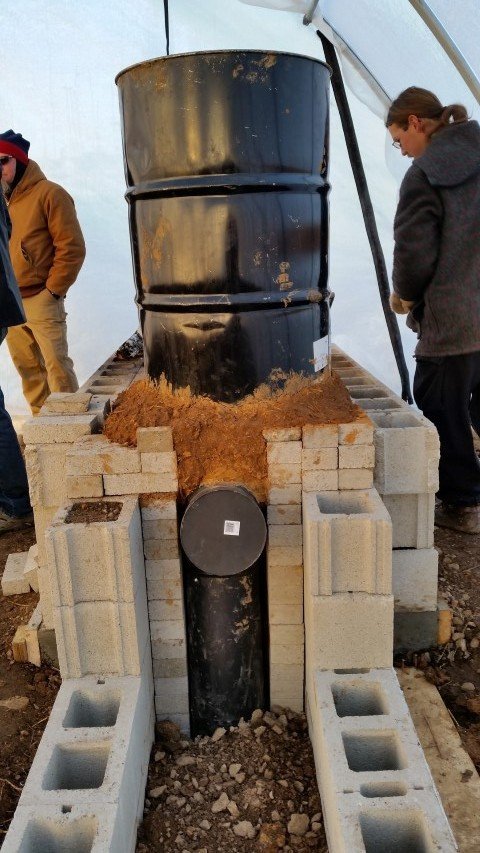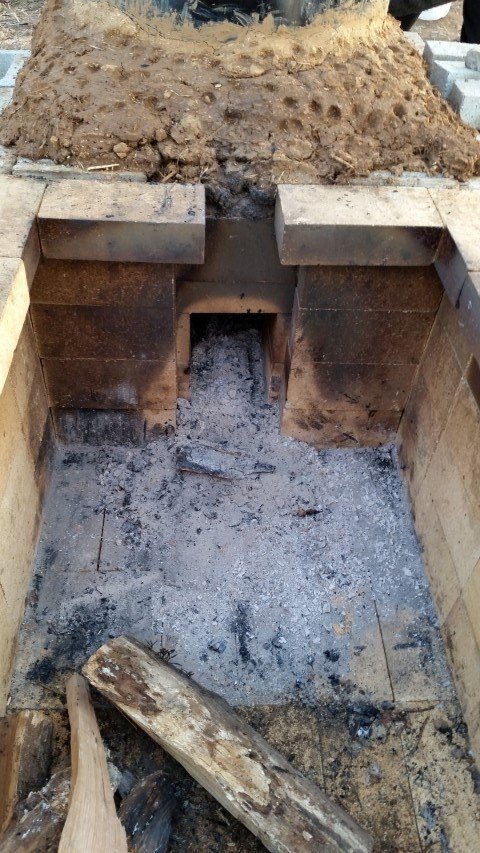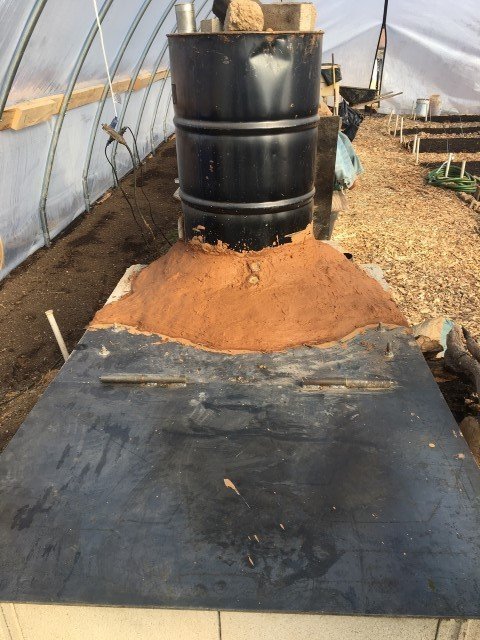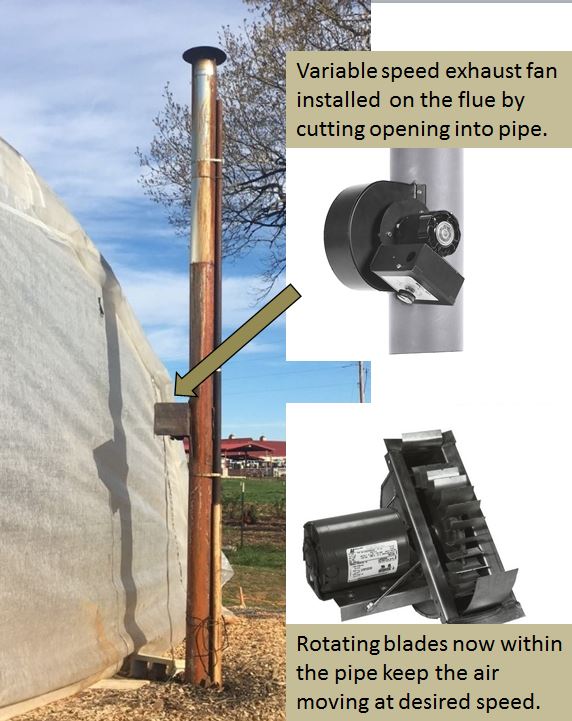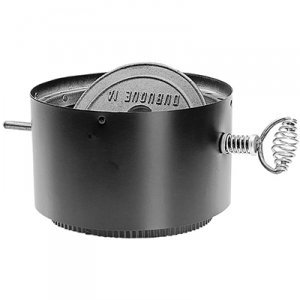 8 Weeks Later…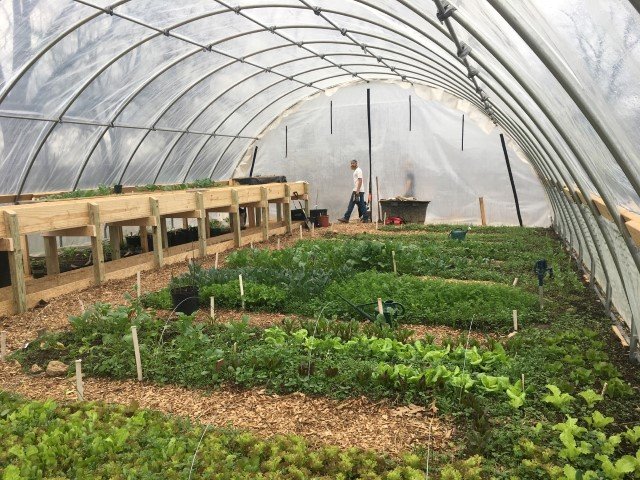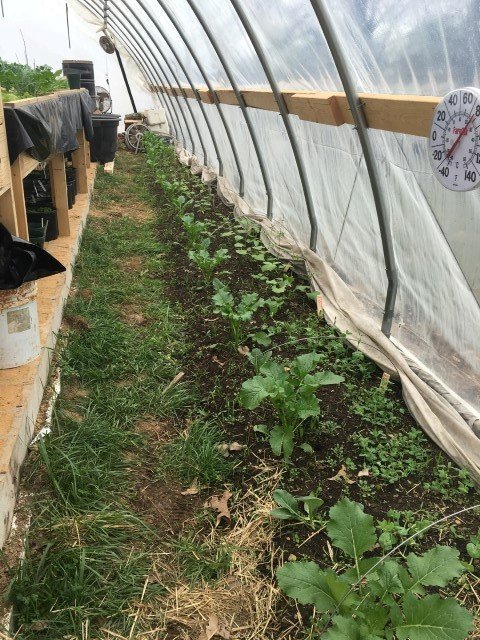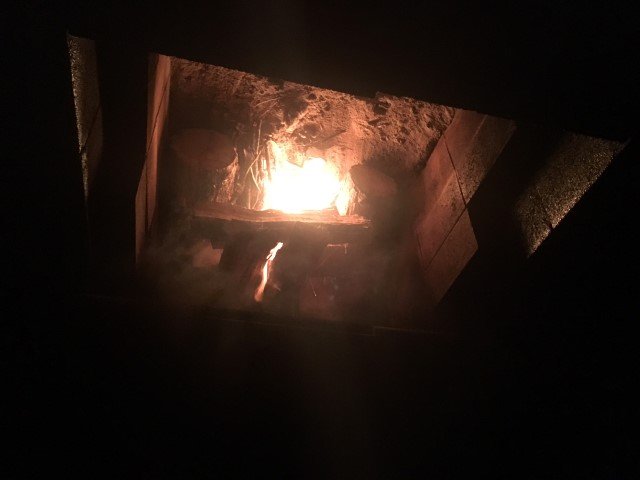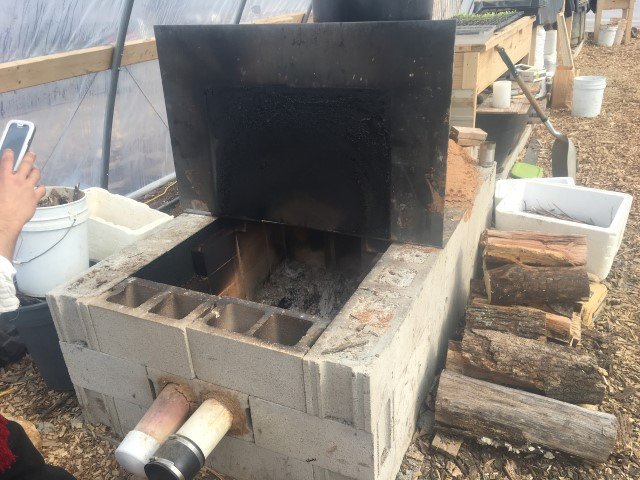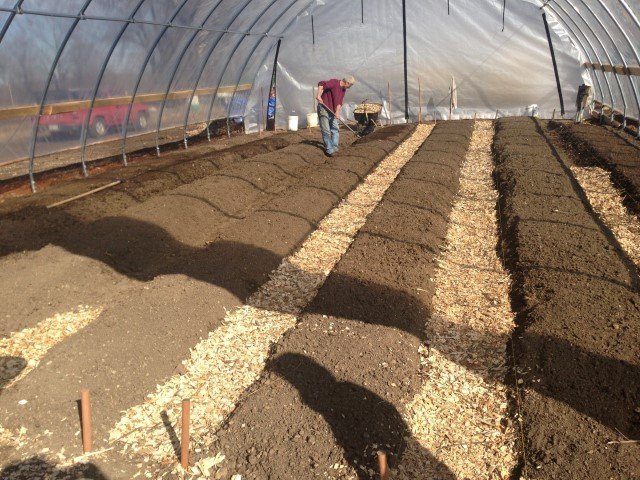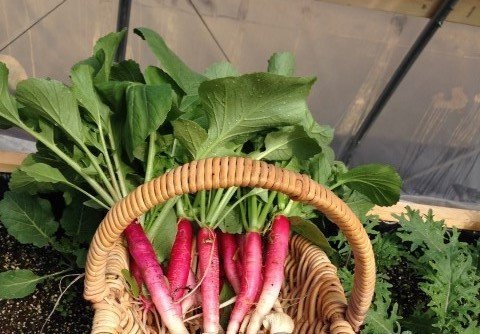 Conclusions
The system works to keep the greenhouse well above freezing.
The first cob mixture had too much clay and not enough sand and aggregate, so it shrank and cracked, compromising the full integrity of the stove. We took the radiant barrel and riser off during our next PDC course so our students could see how the inner workings of the stove held up. It took about 2-hours to remix some cob and put it all back together.
It was a fairly large investment (about $3,000 in materials plus labor) but to keep the greenhouse above freezing for just one winter using natural gas or LP, we estimated a cost of about $3,000 as well. So, we figure the stove paid for itself in two seasons (one year for materials, one year for labor).
Could the stove function well without the damper and fan?  Maybe, but having these options gives us greater control especially when starting the fire.
For our next stove we are going to look for ways to create some kind of turbulence in the underground portion of the exhaust pipe to increase heat absorption in the surrounding gravel.
As the fire cools and the draft slows down, the exit pipe outside cools quickly as well thus slowing the flow of exhaust gasses even more.  Insulating the exhaust pipe should significantly improve air flow.
A re-design of the fuel chamber door will be considered as well. When the lid is opened to check the fire or to add more wood, too much smoke escapes, filling the greenhouse with smoke. A front loading system is more difficult to load and clean, but it's much more difficult for smoke to escape. Here is a picture of a unit our friend Michael Egan built a with large, front loading fuel box.

Mike Egan designed rocket mass heater

Final note: This is a good time to remind the reader that 1/3 of the 4,000 acre farm is oak forest. There is plenty of wood available on site for the taking–a natural resource. This is why we are looking at wood burning technologies for various energy needs of the overall permaculture design of the farm.

If this farm was on the prairie with few trees, we'd be looking more at various techniques to better insulate the greenhouse or possibly even switching to Earth Air Tubes to keep the greenhouse above freezing all winter with no supplemental heating at all. 
2020 Update!
We have removed the entire stove system. 
As surprising as this might appear it is a good lesson in non-attachment.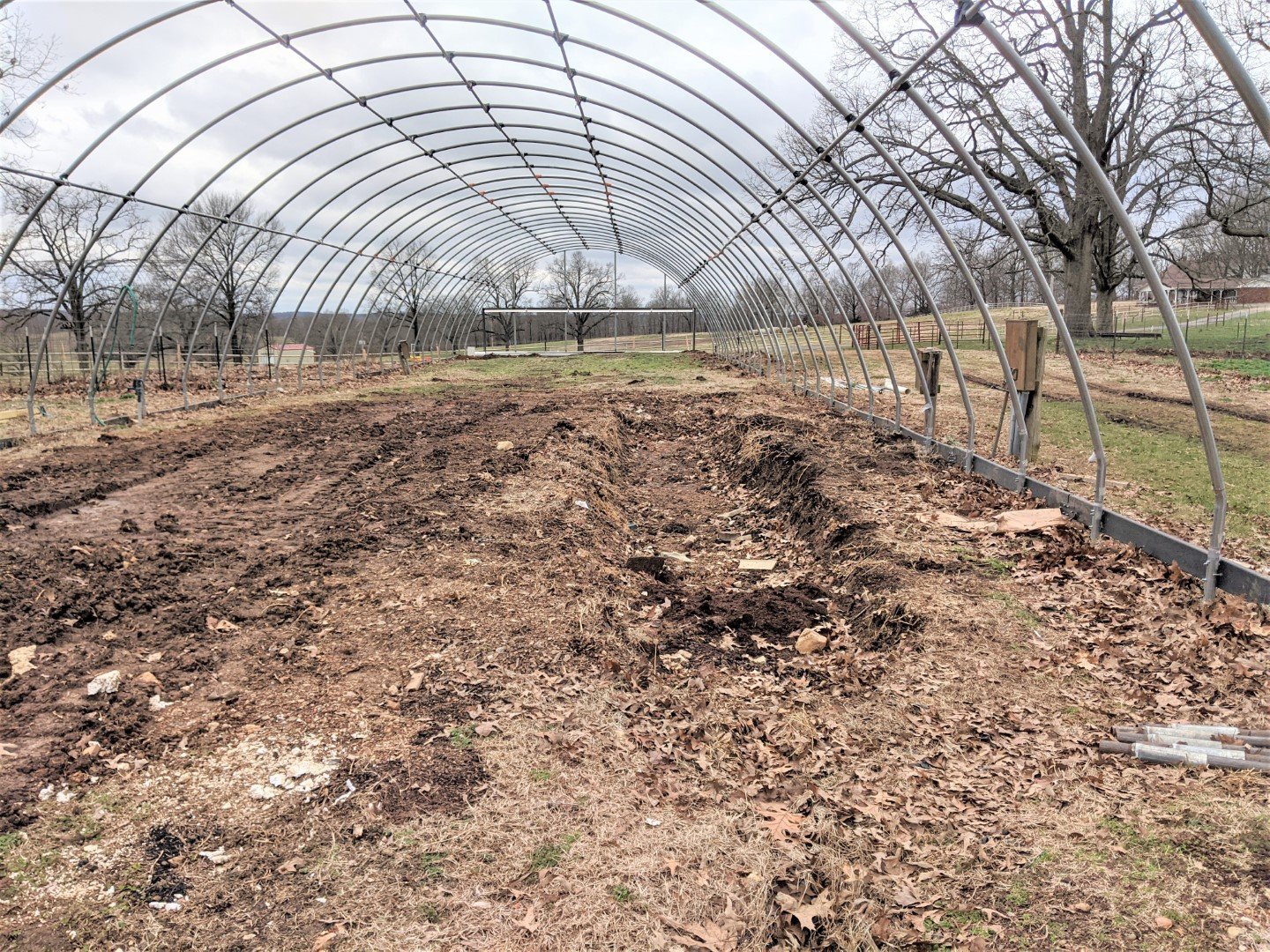 When we built the stove we had a small team of permaculture course graduates living on the farm and enjoying the greenhouse production throughout the winter months.
But plans change. For the past two years there has been no one living in this area of the farm so the greenhouse has been unused. At the same time our priorities for growing perennial-plant starts has loomed up with our plans to plant-out hundreds of acres into perennial production and food forests. So our need for non-heated nursery space has soared.
We decided that the greenhouse nursery space was more valuable to us than the rocket mass heater so… we took it apart and pulled it out.
Yes, this was hard to do but we learned so much from this project that we are grateful for the opportunity to build and operate such an epic rocket-mass stove.
This has been a good reminder to us to appreciate the work in front of us while doing our best at creating workable and compassionate, long-term solutions to the design challenges before us. Yes, we want good results, but we do our best and then come to accept whatever results. This is spiritual work I think to desire everything, need nothing, and understand what is showing up.
We are glad we could share this project with you and appreciate your interest and feedback. We will continue to take questions on this post and will answer to the best of our ability should questions follow.
And we will continue to post on our other projects should we think there is something we have learned that might add to the growing body of work focusing on how to leave the planet in better condition than when we arrived on it.
Be well… Keep in touch… Bill (March 19, 2020)
Note: We do take a good look into rocket stove theory and application at every one of our PDC courses.
Schedule of Upcoming PDC Courses Here.