May 2011 Hands-on Training Week
At Midwest Permaculture — Stelle, IL
For those interested, here are some pictures from our "Hands-on" work week.  It turned out to be a great time dispite the fact that it rained on most days.
The pictures are from student John Berton and myself, Bill Wilson. The narration is mine as well. You can learn more about our 6-Day course here.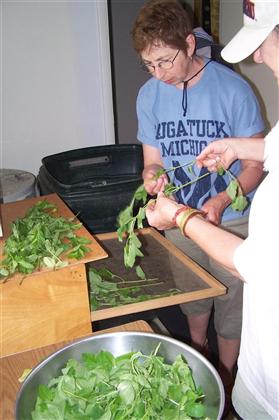 Herb Drying – Lemon balm and spearment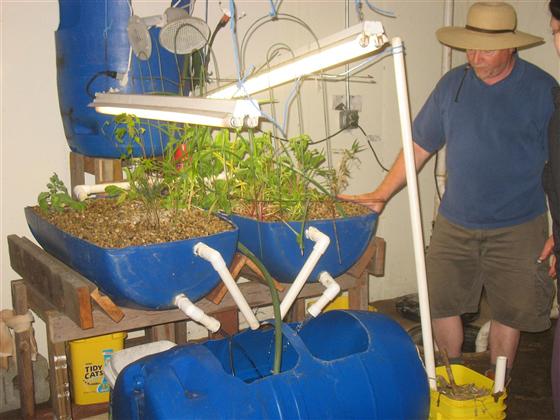 Our Aquaponics system after 7 months of winter growing in a basement.  We ate some swiss chard all winter and our 6 little goldfish look healthy and plumper.  It cost about $4 a month in electricity to run the system and I only checked on it twice a week.  It ran flawlessly.
Our neighbor's hot air solar panels.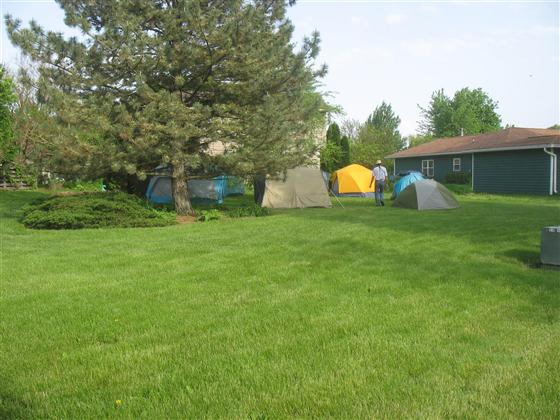 Student's Tenting Area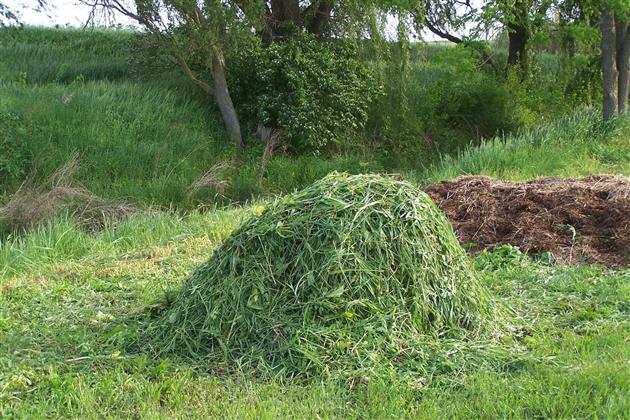 Our Student's Hot Compost Pile – Was reading 140 degrees with 6 days.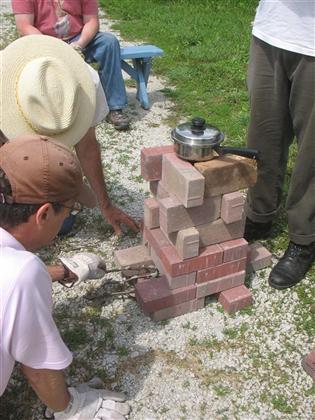 Milton Dixon and I demonstrate how to build and use a rocket stove.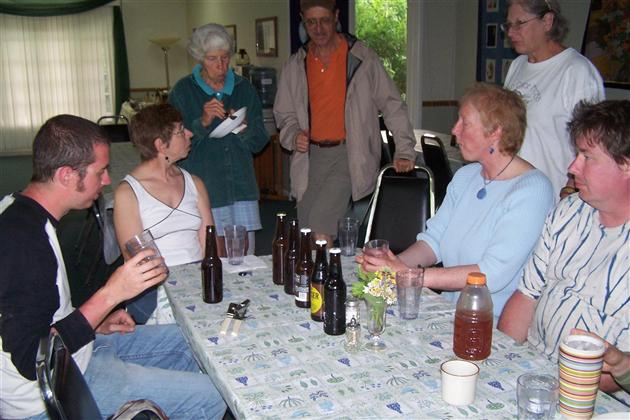 Milton sharing some of his home brewed wines and meads.  Students made a 1-gallon bottle of mugwort mead which I will keep an eye on for the next few months as it ferments. Students at the next scheduled training in August will probably get to sample it.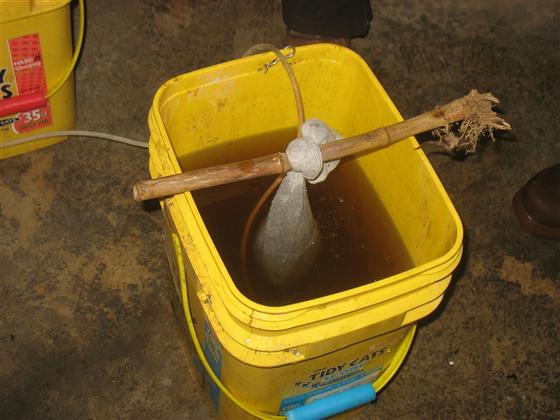 Compost Tea Anyone?
It's for plants, not people.  The sock contains worm castings and compost.  In the water we put a table spoon of molasses and an aquarium bubbler.  Two days later we have compost tea.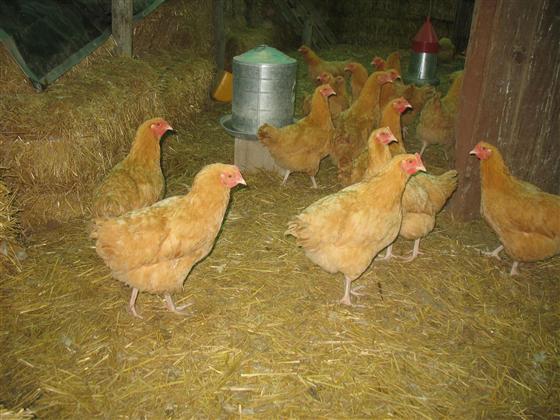 We are moving these lovely ladies out from the chicken house (where we feed them daily while harvesting their eggs) and into the orchard where they will fend mostly for themselves, eating bugs and weeds.  We needed to build a portable chicken coop so our students assisted with this.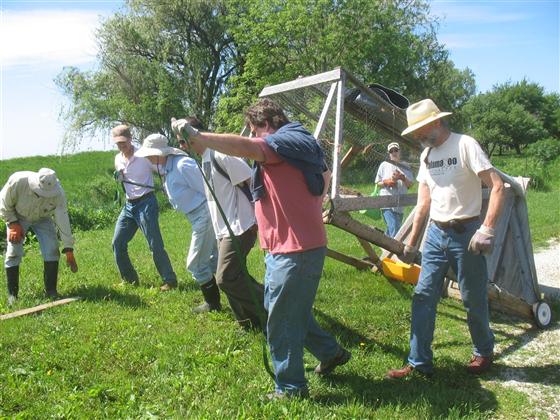 Moving the Old Chicken Tractor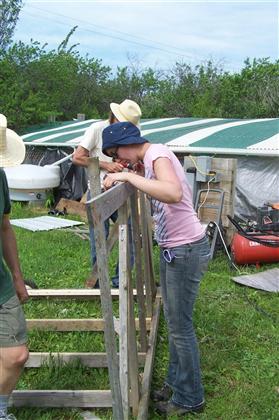 Disassembling the Old One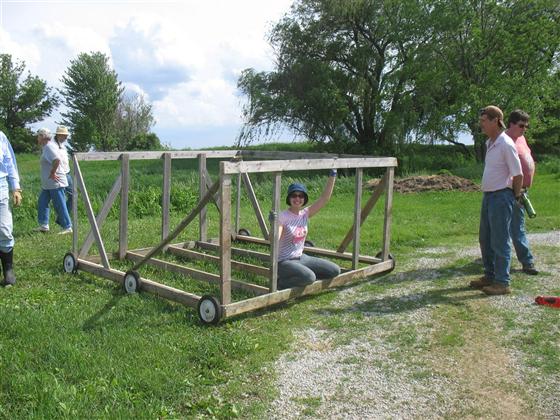 Rebuilding the New One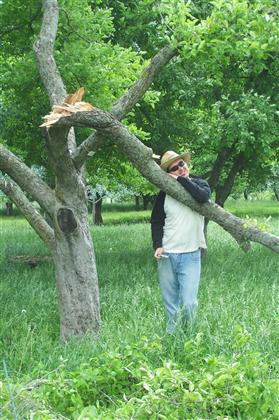 One of the storms that came through, took down a substantial branch from this apple tree in our orchard.
Why not take this wood and build a hugelkultur bed right next to the tree it came from and put in a plant guild that will support the long-term growth and production of the tree?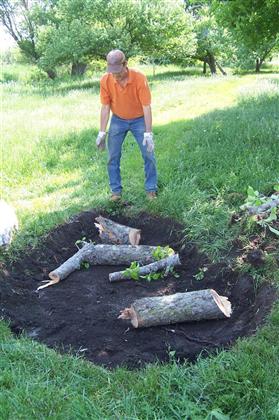 So students dug an 8-inch hole putting the sod on one side and the dirt on the other, then threw in the big chunks of wood…
…followed by all of the branches…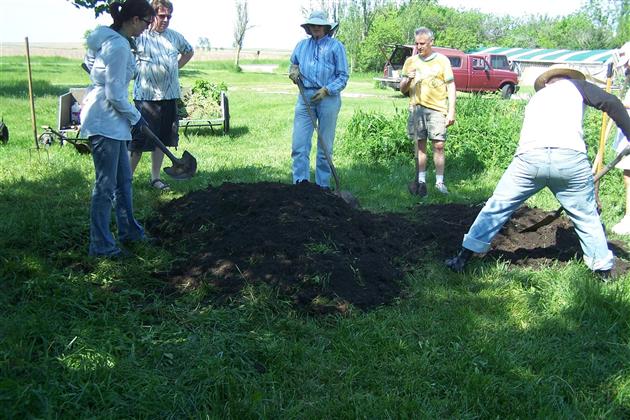 …then all of the sod… and topped off with the clean soil.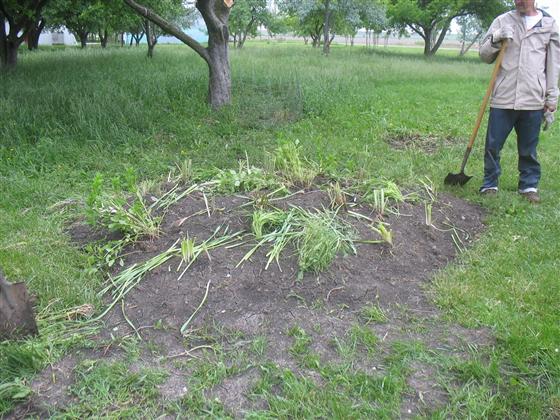 The plants in the guild all came from cuttings or root stock we harvested from plants around our home or in the community that needed some division or thinning.  We spent nothing on plants.  In an month this will be a lush bed containing comfrey, lemon balm, spearmint, garlic chives, daisies, with the overstory consisting of currents.  A few daikon radish seeds were sown in to attract beneficial insects, build fertility, and for eating.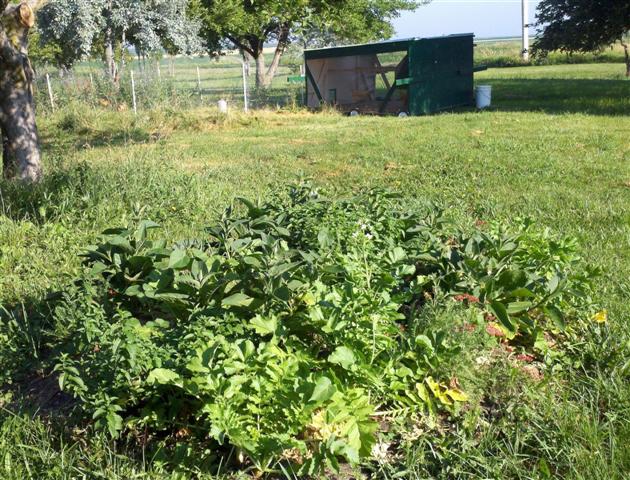 Here is what the guild looked like 7 weeks later.  The completed chicken coop is in the background. 
On another day we took a very weedy and grassy area of the community garden and without any digging, turned it into a prime growing area.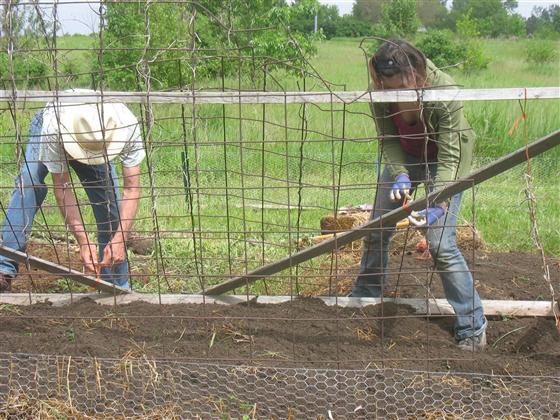 We used Toby Hemenway"s "bomb-proof sheet-mulching method" (as explained in his book Gaia's Garden) and finished up with this great bed, ready to plant peas and beans.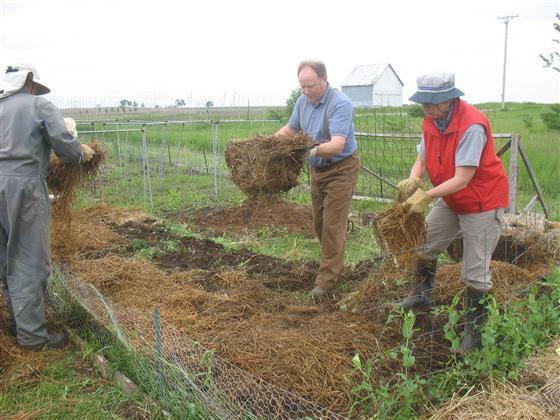 The secret is applying layer upon layer of materials includeing newspaper, cardboard, manure, straw, green grass or weeds, and compost.  The results… no digging, no tilling, no weeding, ready to plant, and great long-term fertility.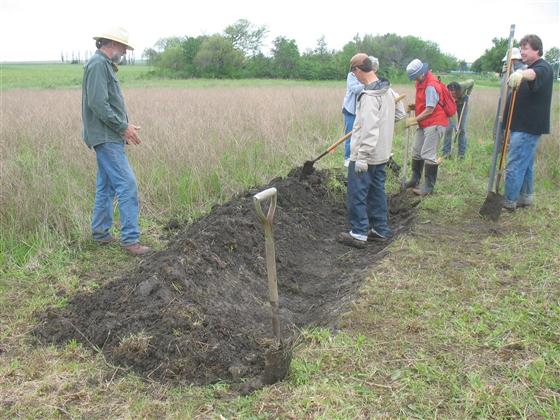 On our final day the ground was just dry enough to layout and dig a swale.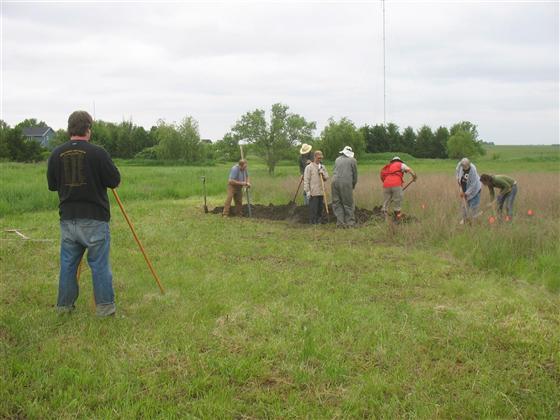 We used an A-frame and a transit to mark off where to dig and to keep the bottom of the swale level or on contour.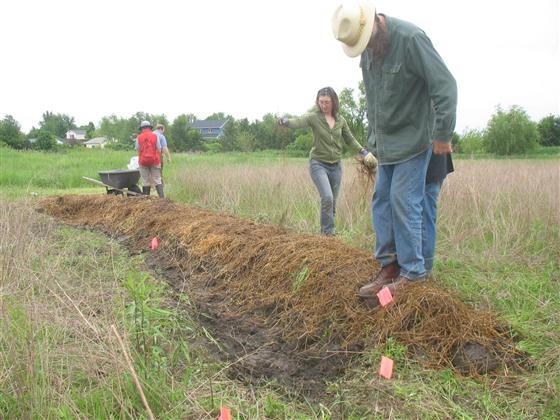 After digging, students covered the berm with loose straw and planted white clover seed to help hold the soil in place while also fixing nitrogen.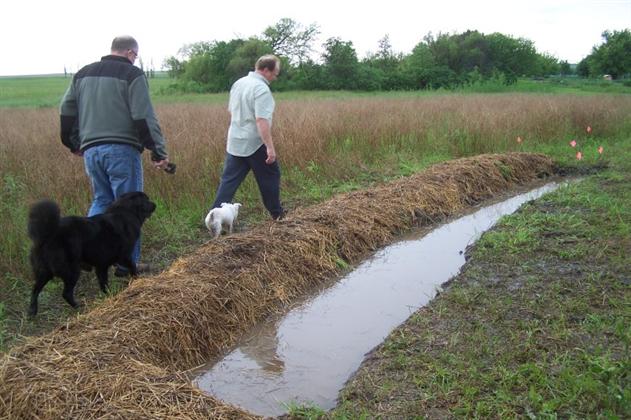 Two days later we received another good rain and I was able to capture this picture of the swale doing the very work it was designed to do.  All of this water would have ended up in the creek and eventually the Mississippi river if it was not caught by this swale. This water will now soak into the ground slowly and anything we plant near to it will receive the advantage of additional water.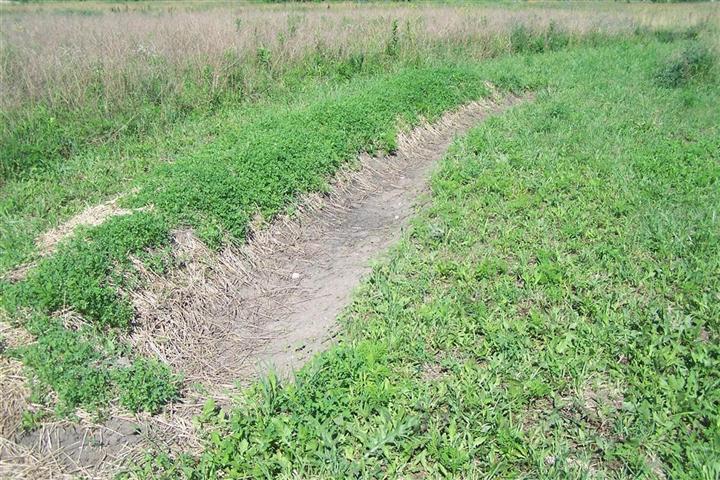 Here is the swale 5 weeks later.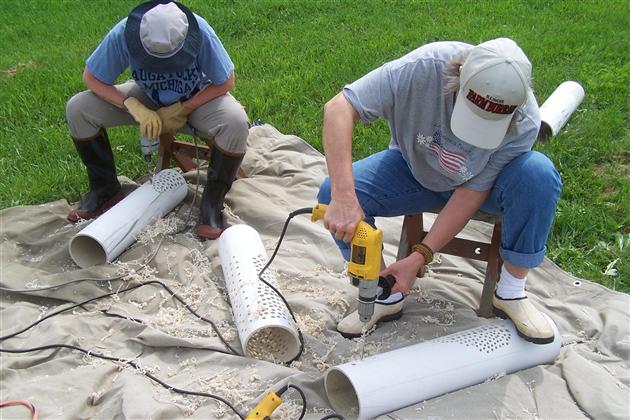 Inspired by our last month's email, our students wanted to try their hand at making their own worm towers.  It starts with drilling holes into a 2.5 foot tube of PVC.  It's a lot of holes…!!!  Next time we'll use a 1/2 inch bit.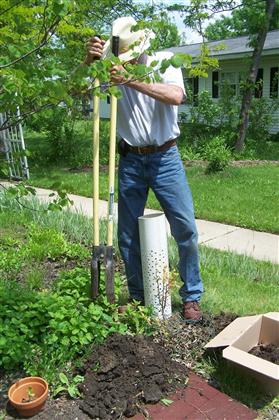 Then we took a post hole digger and dug down two feet into a bed that is close to the house and growing lots of edible plants.  We want to make it convenient to take our kitchen scraps out and turn them quickly into rich worm-castings.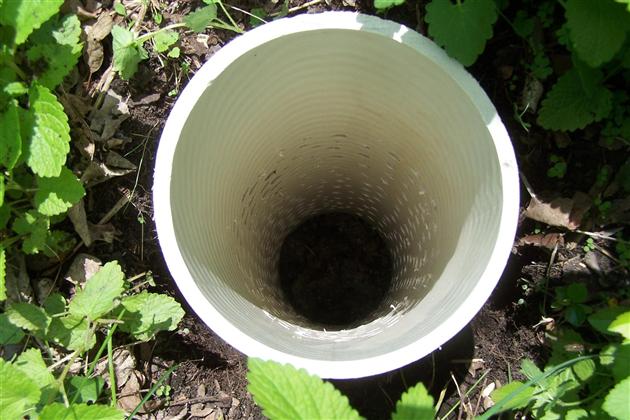 Then the pipe is inserted into the hole with the last 6 inches (where there are no holes) sticking out.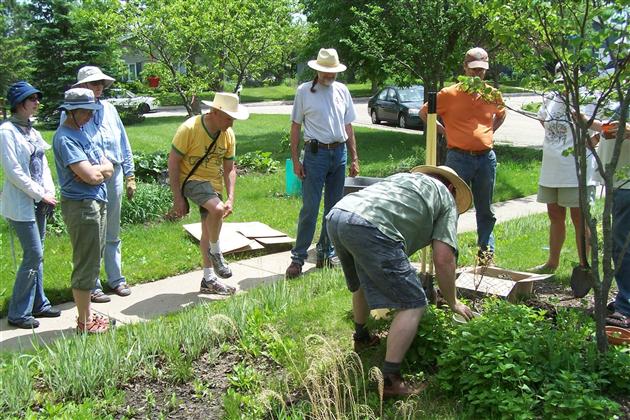 We back-filled the hole 1/4 the way with some wet straw, a handful of red wigglers, a bit of topsoil and a handful of kitchen scraps.  We cap the tube with a piece of screen and a flower pot to keep the flies out.
The little guys are in heaven now and we keep adding kitchen scraps in the following days until it fills.  Once full, we give it a week to 10 days when the contents will have dropped down.  Now it's time to top it off with fresh kitchen scraps again.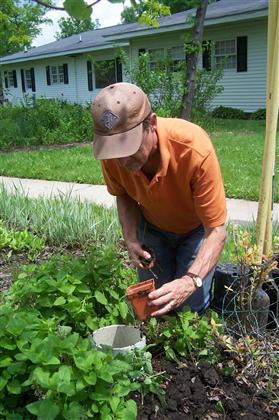 The worms burrowed-down deep for the winter and in the spring we pulled out a small bucket of worm castings from the bottom before adding a bit more straw and the kitchen scraps again for another year.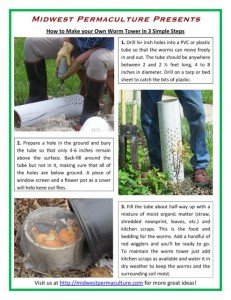 Here is a one page printout we made for you of How To Make a Worm Tower in 3 Easy Steps.
Can you join us for a training?  
If you come to one of our trainings hosted here at Midwest Permaculture in Stelle you can put your arm down this very worm tower to see for yourself how a column of gooey kitchen scraps turns into beautiful worm castings.
Our Next Hands-on Permaculture Training
July 30 – Aug. 4, 2013
Click Here for Full Schedule
of all our
Permaculture Design Certificate Courses,
& Weekend Trainings
Learn from Home
Foundations of Permaculture Webinar Series
Summary: During the week we tackled over a dozen projects and our students received a good portion of the Permaculture Design Certification Course curriculum during our classroom time. They may now choose to continue on with their education to earn their PDC Certificate or may simply take all of the great skills and information they learned this week and begin applying them into their own lives.
And you don't have to have a piece of land or a house lot to apply this sort of training.  The final picture above is Larry, of Chicago, who lives on the 10th floor of an apartment building in the city.  Permaculture is about design and conscious living.  I matters not where you live.
Thanks for reading this far.
Congratulations to our students for a great week of accomplishments.
Bill Wilson